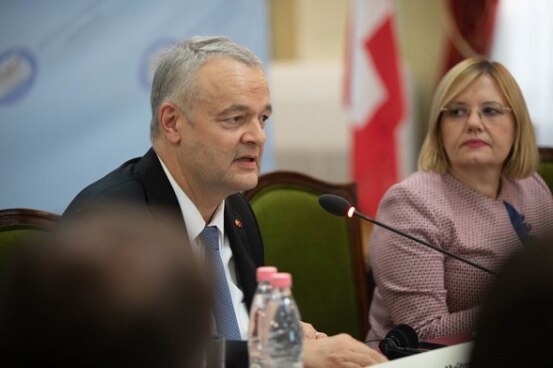 The project 'Support to Parliament and Civic Education' – PACEP – brought together representatives from Albania's parliament, the Embassy of Switzerland, the OSCE Presence in Albania and the National Democratic Institute (NDI) to constitute its advisory board and to discuss its progress.
 "This is one of the few projects that has addressed our real needs, as we see them", said the Deputy Speaker of Albania's Parliament, Vasilika Hysi. "We look forward to the establishment of the Parliamentary Institute and I would like very much to thank the Swiss Agency for Development and Cooperation, the OSCE Presence and NDI for the cooperation we have had in the framework of this project", stressed Ms. Hysi.
"Through PACEP the Swiss Embassy aims to help the Parliament of Albania to improve its performance, in assuming and owning its core functions: lawmaking, representation and oversight. In other words, to develop its full capacity as an effective institution. Seen from the citizens' perspective the project aims at rendering the work of the Parliament more effective but also at opening up towards the citizens. By listening to them and by offering ways for them to influence meaningfully the Parliament's work and decision-making", said Swiss Ambassador Adrian Maître.
"This four year project aims at creating a long-term vision of a Parliament that is transparent, effective and that represents as best as it can the citizens, and educates the citizens in cooperating with the Parliament", said the Minister of State for Relations with the Parliament, Elisa Spiropali.
The Head of OSCE Presence in Albania, Ambassador Bernd Borchardt, stressed that the project is also ready to support the Parliament regarding the introduction of electronic legislation.  
Presentations and discussions on the progress made by the project took place. The project delivers along three main objectives: 1) Parliament administration fullfils its functions in an efficient and effective way; 2) Parliament improves its legislative, oversight and representation functions, and 3) Citizens claim their space in democratic developments of the country, are prepared in holding MPs accountable, and are active in influencing reforms.  
PACEP – 'Support to Parliament and Civic Education' - is related to the main objectives of the Swiss Cooperation Strategy with Albania in strengthening legislative bodies and citizen engagement. It is implemented by the OSCE Presence in Albania and the National Democratic Institute (NDI).