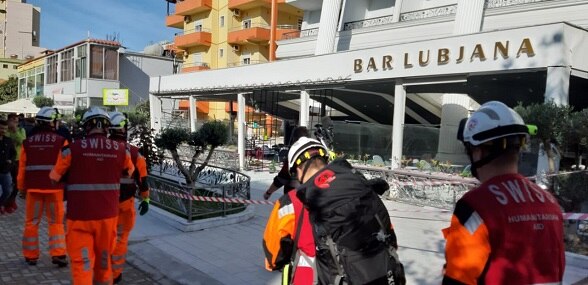 A team of 15 specialists mobilised by the Swiss government arrived in Albania to help the country in the aftermath of the heaviest earthquake in decades. The team includes experts in two fields: (1) engineers who evaluate the state of buildings; (2) experts who assess needs and plan action to respond to them.
"Our ongoing cooperation programme in  Albania had to include also a response to the tragic earthquake that hit on Tuesday. Seeing the seriousness of the situation the Swiss government expanded its efforts by bringing in a first mission of experts who will assess needs, provide immediate assistance and propose longer-term measures following the earthquake", said Swiss Ambassador in Albania Adrian Maître.
"Switzerland not only supports Albania in the good times, but also when in difficult moments", said Sebastian Eugster, team leader of the Swiss mission and Deputy Head of Humanitarian Aid at the Swiss Federal Department of Foreign Affairs.
Upon arrival the Swiss mission held a briefing together with Ambasador Maître, embassy staff and representatives from 'Strong Municipalities' project. They divided into groups visiting several locations in Durrës, Laç and Thumanë. Immediate assistance was provided at the Lubjana Hotel in Durrës where the Swiss engineers checked the stability of the building and advised on potential demolition due to its unstable elements.
The team met with emergency commissions and local authorities in Durrës, Tiranë and Laç, and started to assess the needs of affected families. In the coming few days the mission will decide on the priorities and duration of the Swiss assistance. Supplies, equipment and non-food items are expected to arrive in the next few days.
Switzerland supports Albania's development for over 20 years through a broad cooperation programme on many of the country's reforms. Assistance in emergencies and disasters comes in addition to the already existing Swiss engagement.
The latest response to the earthquake emergency in Albania is coordinated between the Swiss Embassy in Albania, the Swiss Foreign Ministry, the Humanitarian Aid Department at the Swiss Agency for Development and Cooperation, as well as with Swiss-funded projects in the country, and the Tirana-based Swiss Foundation for Innovation, SFI.