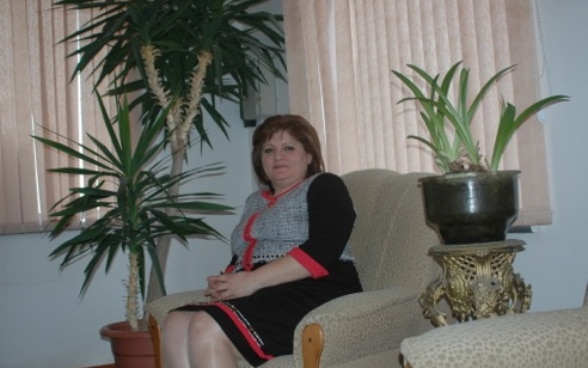 A very nice and smooth road leads to Karahunj municipality. There is a green building. Clean stairs bring us to the Mayor's office, a very tidy and airy place, decorated with green, healthy plants. One feels like entering a warm private house.
Karahunj is a village of 1376 population in Syunik region. After the collapse of the Soviet Union the village infrastructure was not maintained properly for many years. As a result the kindergarten and school buildings were almost ruined, there was no running drinking water and no sewage system, no roads, high unemployment, and many distressed people thinking of leaving the country.
"My first goal was to enable people to generate their own income." - says Lusine. "We argued for a long time in the village council whether to start with renovating the kindergarten or the school. We had very scarce funds, which were not sufficient for the school, so we opted for the kindergarten. This let the preschoolers enjoy the day-care and gave the parents a chance to work in agriculture."- she proudly continues. Still, the school in Karahunj was also renovated step by step. The old Armenian church was cleaned up by the village youth group, streets were electrified, roads built, and sewage system installed.
Lusine shows beautiful landscape pictures of Karahunj full of garbage lying around. "That is how it used to be before we organized garbage collection in our village"- she regretfully states. There is a muted film running on the screen in her office, while she talks. The film is about her village and called "Key to Change", made by Counterpart International and funded by the United States Agency for International Development . Many efforts of the villagers have been funded by different donors, and in every project the municipality covered 20% of the expenses.
The veterinary services in Karahunj, supported by the Swiss funded Project on Livestock Development (implemented by the Armenian NGO Strategic Development Agency) motivated people to have more cows. The farm animals became healthier. A milk collection point was established, so that the farmers can sell their produce without traveling too far. Old pastures were restored and received water pipelines, which also increased the quality of milk and meat products. "People started to believe in themselves, that they can earn money, that they can solve their problems without waiting for someone."- says Mrs. Avetyan very proudly. Today, 80% of the Karahunj population earn their living from animal farming. During the last 5-6 years there has been no emigration, which is not the case in many other Armenian villages.
The Municipality Management Information System is one of Lusine's favourite projects. "It is a very transparent and efficient system" - says the village mayor. "When there was mistrust, we used to post our budget outside on the wall. Now, anyone can enter our system sitting at home, at any time, they don't even have to walk to the municipality"- underlines Lusine.
Since 2002, Lusine has managed to solve many problems of her community, as rehabilitation of infrastructure, or employment of the population. Now, she wants to learn English to be able to write project proposals in English. Her next project is to help women farmers to get funds for organic agriculture. "Our village has a huge potential to grow berries and herbs"- she reiterates enthusiastically.
Today, Lusine is one of very few women politicians in Armenia. According to the latest Human Development Report 2015, there are about 9% women in the local councils and nearly 11% in the Parliament, an alarmingly low percentage. Lusine is a board member in the Communities' Association of Armenia and a member of the Armenian Delegation to the Congress of Local and Regional Authorities of the Council of Europe.
The way to leadership for a woman in Armenia is not always as smooth as the road to Karahunj municipality. "Women leaders have no right to make a mistake, we will be quickly remarked, we are too visible! " - stresses Lusine.  Lusine cares for people. This makes her look for solutions. Solutions that change lives for the better.