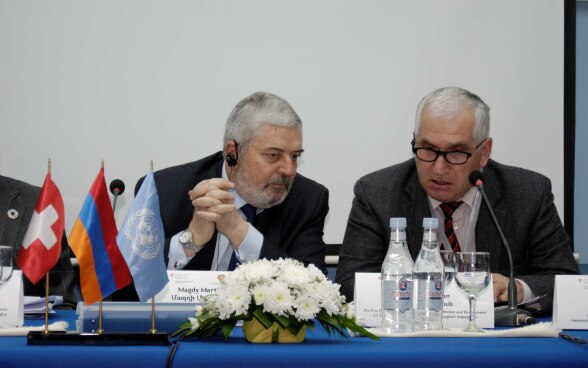 "With women, policies are smarter, governments are more popular!" said Magdy Martínez-Solimán in his opening speech directed to Armenian women politicians and community representatives at the stock-taking event  of the WiLD project in Yerevan, Armenia.
"Every time I look at the gender statistics in Armenia, I get depressed. Every time I meet women politicians I get impressed by their efficiency," said Lukas Lüscher, Co-Head of the Swiss Cooperation Office in Yerevan. Women representation in Armenian politics is indeed very low, with 12% at local level and hardly 10% at the national level. There are neither female governors nor city mayors, and not even deputy mayors, although women comprise 52% of the population and 58% of those with higher education.
Ashot Giloyan, Head of the Local Self-Government Department at the Ministry of Territorial Administration and Development remained optimistic. He stressed that in 2016 local elections, more women candidates ran for office, and more women candidates got seats. "It means, the more women run, the more they win!" he concluded. "The quota system introduced only in the biggest cities of Yerevan, Gyumri, and Vanadzor has shown positive results, which shall be spread all over the country," Giloyan said.