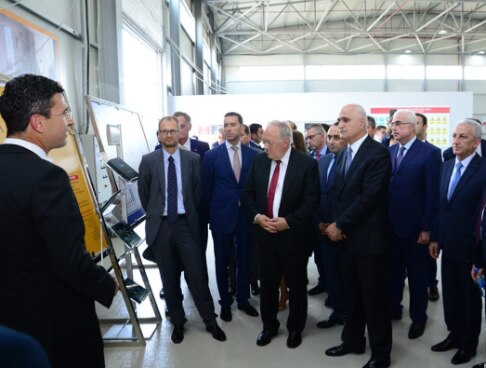 In his speech, the Swiss Minister of Economy said: "Like many of our globally active brands, Sika is a true representative of the innovative and competitive Swiss private sector. The new Sika factory is another substantial investment of Switzerland into the non-oil sector of the economy of Azerbaijan."
On behalf of the Azerbaijani government, Minister Shahin Mustafayev asssessd the new Swiss investment equally positive and evaluated the presence of Sika as a sign of an existing fruitful environment for foreign investment in Azerbaijan.
In the presence of Sika's Regional Manager on Europe, Middle East and Africa, Mr. Ivo Schädler, and Sika's Country Director for Azerbaijan, Mr. Yayla Adem, both Ministers reveived detailed information on the product portfolio of the new factory and did a tour at the facilitiy which was constructed according to the latest available technology of the company. Mr. Schädler underlined. "We have been selling our innovative products in Azerbaijan since 2005. The new, modern facility not only enables us to expand our product portfolio, it also means we can enhance product quality while lowering costs and strengthening our position as a high-caliber supplier to the country's up-and-coming construction market."