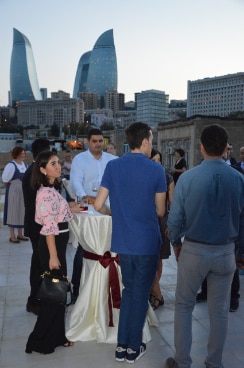 In his welcome speech, Ambassador Philipp Stalder expressed his hope that this event will provide a useful platform for young people with similar background to exchange experiences and ideas and to get in contact with representatives of the Swiss private sector in Azerbaijan. The Swiss host further informed the participants about recent and upcoming activities of the Embassy and mentioned some key points of the bilateral relations between Switzerland and Azerbaijan which are developing very well in many spheres.
As a special guest, Mr. Rasim Garaja – the well-known writer, journalist and the founder of the magazine and printing house "Alatoran" – was introduced to the audience. Mr. Garaja translated Max Frisch's "Homo Faber" from German to Azerbaijani language and will soon publish another piece of world literature by the same Swiss author ("Stiller"). Garaja also mentioned that one of the publications of his magazine was entirely dedicated to Swiss literature.
Finally, it should not go unmentioned that the team of the Swiss Embassy also provided some entertainment for the participants by showing a video clip and introducing a quiz about Switzerland. Would you have known, for example, how many cantons there are (26) or which animal is represented on the flag of Berne (bear)? The winners of the quiz were awarded with small prizes for their excellent knowledge. The Swiss flavor was further added to the pleasant summer event with delicious Raclette - one of the famous Swiss cheese dishes - and tasty wines from Ticino and the canton of Vaud.