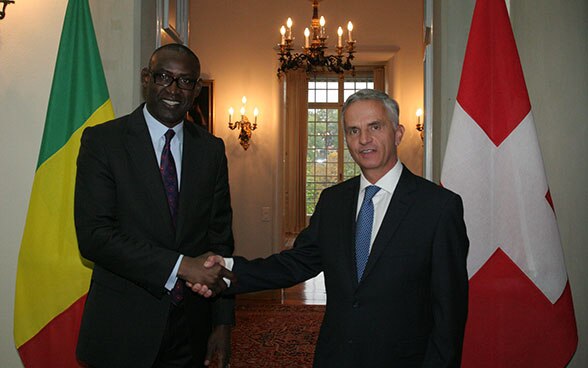 The visit by the Malian minister to Switzerland illustrates the wish to intensify contacts. The two ministers discussed specific issues, such as ways to re-stablish security and protect civilians in all parts of the country, as well as implementation of the 2015 agreement on peace and reconciliation, and preventing violent extremism. The role of Switzerland is currently focused on issues related to dealing with the past and reconciliation. Mr Burkhalter also raised the possibility of enhancing Switzerland's role in decentralisation and power-sharing.
In 2012, in the wake of the fall of the Libyan régime, a conflict flared up between the Malian authorities on the one hand and armed separatist groups and terrorist organisations in the north of the country on the other that plunged Mali into a major crisis. The Agreement for Peace and Reconciliation in Mali negotiated in Algiers between the Malian government and the armed groups in June 2015 prepared the ground for a lasting peace. More than a year after its signing, application of several of its provisions, especially concerning decentralisation and security, is still running up against a number of challenges. In particular, the security situation in the north and centre of the country remains very fragile despite the involvement of a multidimensional UN mission, MINUSMA, and the presence in the region of an anti-insurgent French force as part of Operation Barkhane. 
In this context, Switzerland's work in Mali combines development, humanitarian aid and peace promotion. The complementary use of these foreign policy instruments enables Switzerland to contribute to an effective and well adapted response to the current challenges facing Mali. Switzerland is prepared to pursue its commitment to peace and alleviating poverty, Mr Burkhalter informed his counterpart. He stressed that these efforts by Switzerland in terms of development must be coordinated with its concerns regarding migration, which are currently being discussed by the two countries as part of negotiations surrounding a migration agreement.
In spite of its high potential, Mali is facing many challenges linked to security and humanitarian crises that are hindering its economic and social development and constitute an obstacle to reducing its high level of poverty. With its new cooperation strategy for 2017–20, Switzerland aims to support the Malian authorities and people in their efforts to achieve peace and human and economic development. Switzerland has set priorities in the areas of rural development and food security, rural and food-security governance, governance and peace, and education.
The ministers also discussed terrorism. Mr Burkhalter informed Mr Diop that this year Switzerland has developed a foreign policy action plan for preventing violent extremism (PVE) that focuses on the long-term causes of radicalisation and on vulnerable population groups including young people and women. Mali shares the view with Switzerland that it is essential to offer an under-occupied young generation future prospects as a means in particular to prevent their recruitment by extremist groups. To address this situation, a national strategy to fight violent extremism in Mali is being prepared, and a Ministry of Religious Affairs and Faith has been created.
After the meeting, Mr Diop held talks with the director-general of the SDC, Manuel Sager. They discussed the situation in the country and the challenges of implementing the new strategy on international cooperation 2017–20 in Mali. He concluded his visit to Bern with a meeting with Swiss parliamentarians.
---
Further information:
SDC: Mali
SDC project: good schools for all Malian children
Switzerland and Mali
Bilateral relations Switzerland – Mali

---
Address for enquiries:
Information FDFA
Bundeshaus West
CH-3003 Bern
Tel.: +41 58 462 31 53
Fax: +41 58 464 90 47
E-Mail: info@eda.admin.ch
---
Publisher: