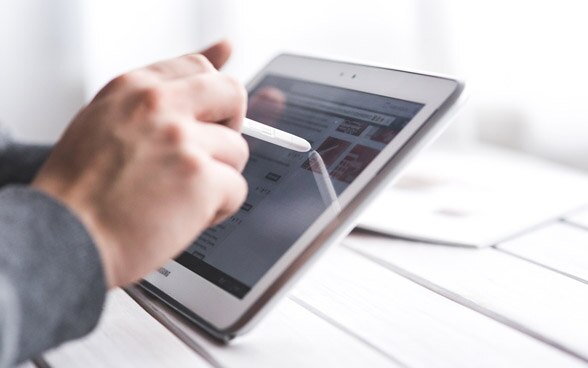 Half of humanity is expected to have access to the internet by 2020, and around 90% of data traffic will take place via the mobile devices. In light of these anticipated trends, the Federal Council adopted Switzerland's first e-government strategy as early as 2007. The strategy is designed to ensure that user-friendly and secure electronic interactions and transactions facilitate communication exchanges between government offices on the one hand and between the authorities and citizens on the other. At the same time, communication and business transactions among the federal government, cantons and communes are to be simplified.
Against this backdrop, the FDFA has replaced the existing IT system for registering Swiss nationals abroad with a new system. This new system offers Swiss nationals residing abroad an online desk which will soon be linked with communes in Switzerland and which they will be able to use to register their residence in a commune and give notice of departure.
The online desk allows Swiss citizens residing abroad to enter, modify and consult their data at any time and from any location. They are now also able to personally register with the Register of the Swiss Abroad, report a change in civil status or enter a change of address. Effective immediately, fee-based consular services such as confirmations of registration and citizenship can be ordered online and paid by credit card or Postcard via ePayment. The online desk can be accessed on the FDFA website www.eda.admin.ch under 'Online Desk' and on the websites of the Swiss representations.
The FDFA attaches great importance to protecting the personal data of Swiss citizens who use the online desk. Therefore, to log into the online desk users are required to complete a two-factor authentication process that involves entering their username and password plus a code sent by SMS to their mobile phone; alternatively, users can log in with SuisseID, an online standardised electronic proof of identity.
The FDFA plans to continually expand the services offered via the online desk.
---
Further information:
Online desk for Swiss nationals residing abroad

---
Address for enquiries:
Information FDFA
Bundeshaus West
CH-3003 Bern
Tel.: +41 58 462 31 53
Fax: +41 58 464 90 47
E-Mail: info@eda.admin.ch
---
Publisher: