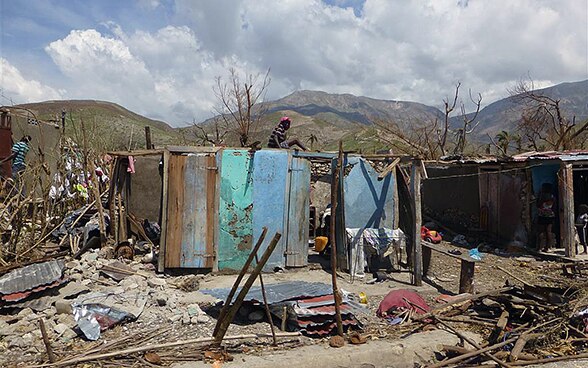 Haiti is the Caribbean country which has been the worst hit by Hurricane Matthew. Since Tuesday, the death toll has continued to rise while flooding and landslides have caused extensive damage. Thousands of Haitians saw the roof of their house fly off in the storm and are now without shelter from the weather.
Early this morning, Switzerland sent a detachment of the Swiss Humanitarian Aid Unit (SHA) to Haiti, comprising experts in emergency shelter-building, water and sanitation, logistics and security. They will be accompanied by a representative of the Swiss Red Cross. Meanwhile, another expert arrived in Santo Domingo to purchase emergency relief supplies unavailable in Haiti.
In collaboration with the Swiss embassy in Port-au-Prince, the team will coordinate Switzerland's assistance with the Haitian authorities and local partners (UN, embassies, Swiss NGOs). It will then commence initial emergency relief and early recovery measures.
Haiti is a priority country for the Swiss Agency for Development and Cooperation (SDC). The SDC already has many experts on the ground who have also been mobilised to support emergency relief efforts. Two mobile water-treatment units will shortly be deployed in the disaster area to provide a daily supply of drinking water for about 12,000 people. This will be complemented by others as the needs assessment becomes clear.
An initial budget of CHF 2 million has been earmarked to cover the immediate response and possible contributions to local partners.
---
Further information:
---
Address for enquiries:
Information FDFA
Bundeshaus West
CH-3003 Bern
Tel.: +41 58 462 31 53
Fax: +41 58 464 90 47
E-Mail: info@eda.admin.ch
---
Publisher: