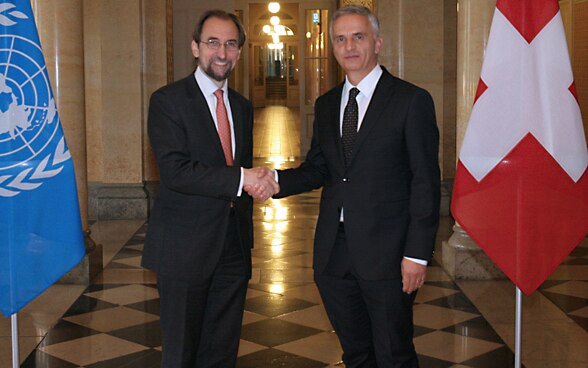 Protecting human rights and the freedom of each individual also contribute to international security, peace and sustainable development. Switzerland is committed to promoting human rights and works closely with the Office of the United Nations High Commissioner for Human Rights (OHCHR) when it comes to thematic issues and priority countries under Switzerland's international cooperation policy. In his private meetings with Mr Al Hussein, Mr Burkhalter assured of Switzerland's intention to continue supporting the OHCHR both politically and financially in the coming years.
Emphasising the role of human rights in preventing conflicts
The discussions also touched on the next steps following the appeal of 13 June 2016 to put human rights at the heart of conflict prevention. This initiative, launched by Switzerland as the Human Rights Council, marked its tenth anniversary and is currently supported by 70 states. The OHCHR has a key role to play in implementing this initiative, since human rights abuses are often early signs that peace and security are under threat. Mr Al Hussein called for international policies in migration management to use migrants' human rights as their starting point. The two partners agreed that an effective approach to the current migrant crisis must include improving the human rights situation in the migrants' home countries.
Expanding cooperation efforts in promoting human rights
Mr Al Hussein and State Secretary Yves Rossier spoke about the human rights situation in countries of shared interest, including Syria, Ukraine and Burundi, where Switzerland supports the OHCHR's human rights monitoring activities. They also discussed the dynamics within the Human Rights Council, to which Switzerland was again elected this year, and Switzerland's initiatives to encourage the UN to put more emphasis on human rights in its global agenda.
Mr Al Hussein also met with Christian Levrat, the chairman of the Foreign Affairs Committee of the Council of States, and with members of the Foreign Affairs Offices and Committees of the National Council and Council of States. These discussions highlighted the role parliaments can play in helping the OHCHR address its current challenges and in the protection of human rights around the world. A number of particularly troubling human rights situations were mentioned in this context.
Strengthening the OHCHR's financial base
The OHCHR is increasingly called on by states to provide assistance in crisis and conflict situations. Switzerland, which is the OHCHR's host country, is committed to increasing the funding for the UN's human rights activities, which receive 3.5% of the UN's regular budget; that budget only covers 40% of the OHCHR's current needs. Switzerland, one of the OHCHR's largest donors, made an additional contribution of over CHF 5 million in 2016. Switzerland also co-finances the OHCHR's monitoring activities in Syria and Yemen and its operations in the occupied Palestinian territory and Ukraine as well as in Honduras, where the OHCHR opened a new office on 23 November.
---
Further information:
Switzerland's support for the Office of the United Nations High Commissioner for Human Rights
The appeal of 13 June 2016 to put human rights at the heart of conflict prevention
Switzerland's commitment to promoting human rights
FDFA Human Rights Strategy 2016-2019
The ABC of Human Rights

---
Address for enquiries:
Information FDFA
Bundeshaus West
CH-3003 Bern
Tel.: +41 58 462 31 53
Fax: +41 58 464 90 47
E-Mail: info@eda.admin.ch
---
Publisher: