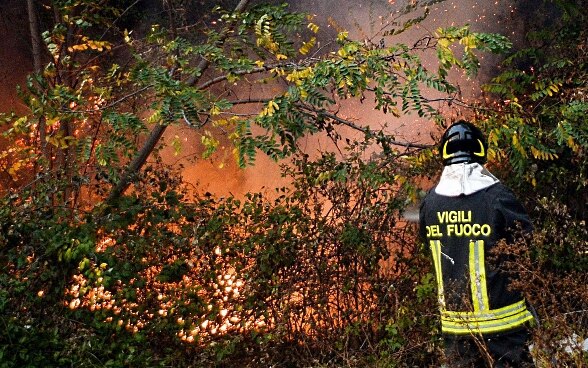 A series of wildfires has spread throughout northern Italy over the past week, destroying many hectares of forests. Hundreds of inhabitants in the Lombardy and Piedmont regions have had to be evacuated from their homes. A combination of dryness and intense winds is making the firefighters task all the more difficult.
Switzerland has responded positively to Italy's request for aerial reinforcements. This morning, the Federal Council gave the go-ahead for the deployment of three Super Puma helicopters, which flew out from the Magadino air base in Locarno to help tackle the fires in the Lombardy region.
A detachment from the Swiss Humanitarian Aid Unit has landed at Bergamo airport, where the Italian civil protection authorities have set up their crisis management centre. The team, made up of two members of the Swiss Armed Forces with forest-firefighting expertise, will ensure coordination with the local authorities and facilitate the deployment of the Swiss helicopters.
Overall responsibility for the mission – which falls under the agreement between Switzerland and Italy on the provision of cooperation and assistance in the event of disaster – lies with Swiss Humanitarian Aid, which is part of the Swiss Agency for Development and Cooperation (SDC), working here in close cooperation with the Swiss Armed Forces. Following the fires in Montenegro and Portugal, this is the third active collaboration between the SDC's Humanitarian Aid Department and the Swiss Armed Forces this year.
---
Address for enquiries:
Information FDFA
Bundeshaus West
CH-3003 Bern
Tel.: +41 58 462 31 53
Fax: +41 58 464 90 47
E-Mail: info@eda.admin.ch
---
Publisher: