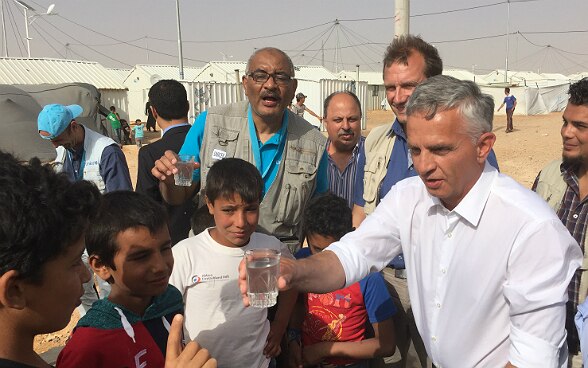 Countries bordering Syria, such as Jordan and Lebanon, are shouldering a large share of the burden of taking in refugees who have fled the Syrian crisis. Switzerland supports these countries and strives to find solutions by funding the building of schools, encouraging job creation and improving the water supply. The aim is to give refugees prospects for the future in their own region.
During the official ceremony, Mr Burkhalter noted that a pledge he and Robert Jenkins, UNICEF representative to Jordan, had made when they visited the Azraq camp 18 months ago to improve the water supply had been kept. The water system will not only improve the living conditions of the refugees, whose number has more than doubled since Mr Burkhalter's first visit to the camp, but will also save one million Swiss francs a year because water will no longer have to delivered by lorry. This money can be invested in training programmes for refugees.
Mr Burkhalter noted that Switzerland is undertaking a multi-pronged effort to address the Syrian crisis. First, Switzerland supports the peace efforts made by the UN in Geneva in particular to find a political solution to the conflict. Switzerland also provides humanitarian support to communities in distress in Syria and in neighbouring countries such as Jordan. Swiss aid to the victims of the Syrian crisis is the largest humanitarian operation in its history.
Switzerland is also seeking to provide economic opportunities for the countries of the region. At a dinner hosted on Friday evening by Switzerland on the margins of a World Economic Forum conference held this weekend in Amman, Mr Burkhalter met with and told a group of over 100 young entrepreneurs from the region: "One of the most important challenges facing the Middle East and North Africa is how to deal with unemployment, particularly youth unemployment. Our responsibility as policy-makers is to create conditions that lead to job creation in your region," said Mr Burkhalter.
During his meeting with his Jordanian counterpart, Ayman Safadi, Mr Burkhalter thanked Jordan for the enormous number of refugees it has taken in. That is why Switzerland is also providing support for Jordan through renovation projects that allow some 50,000 Jordanian and refugee children to go to school. During his visit to the Azraq refugee camp, Mr Burkhalter also officially handed over the last of 143 ambulances Switzerland has delivered in recent years to Jordan's civil defence agency.
---
Further information:
Swiss involvement on behalf of victims of the Syrian crisis
Bilateral relations Switzerland–Jordan

---
Address for enquiries:
Information FDFA
Bundeshaus West
CH-3003 Bern
Tel.: +41 58 462 31 53
Fax: +41 58 464 90 47
E-Mail: info@eda.admin.ch
---
Publisher: