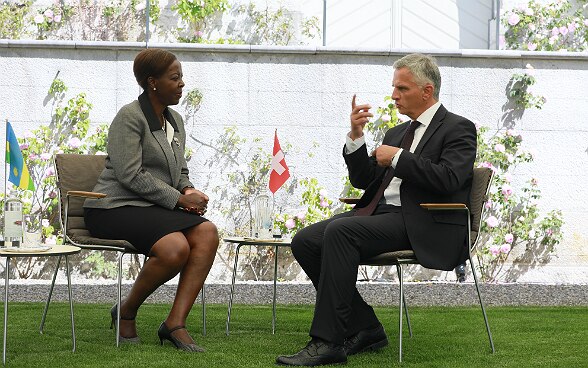 Rwanda has developed into an important economic and political player in recent years. In addition, it has become a stabilising factor in the troubled Great Lakes region. For this reason, the two states' efforts at the multilateral level to strengthen stability, security and peace were a focal point of the talks between Mr Burkhalter and Ms Mushikiwabo, which took place in Von Wattenwyl House. The head of the Federal Department of Foreign Affairs and his Rwandan counterpart agreed that conflict prevention is of key importance. Rwanda supports the initiative launched by Switzerland that aims to promote closer cooperation in the area of conflict prevention between the UN Human Rights Council in Geneva and the Security Council in New York. Mr Burkhalter and Ms Mushikiwabo discussed concrete steps to help contain or prevent conflicts. Topics discussed in the context of the two countries' activities at the multilateral level included the abolition of the death penalty and the work of the Human Rights Council, of which both Switzerland and Rwanda are currently members. 
Mr Burkhalter and Ms Mushikiwabo agreed that countries that are non-aligned and well connected as are Switzerland and Rwanda can mediate at the international level between groups taking different positions, and promote dialogue, and in this role carry out an important function. In this context, Ms Mushikiwabo welcomed the profile, as bridge-builder, on which Switzerland's candidature for the UN Security Council is based.
The new phase in relations between Switzerland and Rwanda that Mr Burkhalter and Ms Mushikiwabo ushered in today provides for new impetus at the bilateral level. Vocational skills training is to become a new priority of the countries' development cooperation with the aim of opening up new opportunities and prospects for the people of Rwanda. Switzerland will increase its support in this area as part of its new strategy for the Great Lakes region (Rwanda, Burundi, the Democratic Republic of the Congo). In this context, five training centres will be established in close cooperation with the Rwandan government to train masons, electricians, carpenters, welders, plumbers, mechanics, and hotel professionals.
Furthermore, the new strategy gives priority in Rwanda to improving infrastructure, especially access to drinking water for the population, to creating a transparent system of tariffs, and to focusing more closely on governance, in particular encouraging civil society and independent media.
The ministers also discussed developing closer political and economic relations between the two countries. In this context, they signed a bilateral aviation agreement. After the meeting, Ms Mushikiwabo travelled to La Chaux-de-Fonds to visit companies active in coffee production.
---
Further information:
Bilateral relations Switzerland–Rwanda

---
Address for enquiries:
Information FDFA
Bundeshaus West
CH-3003 Bern
Tel.: +41 58 462 31 53
Fax: +41 58 464 90 47
E-Mail: info@eda.admin.ch
---
Publisher: