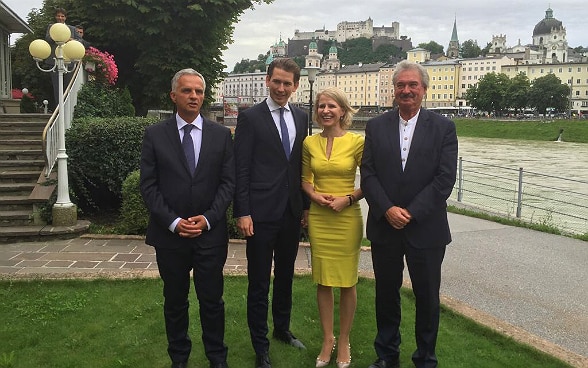 Austria is the current chair of the Organization for Security and Co-operation in Europe (OSCE) and last week Switzerland's Thomas Greminger was appointed as the organisation's new secretary general. The crisis in European security and ways to overcome it were among the topics discussed by Mr Burkhalter, the Austrian foreign minister and OSCE chairperson-in-office, Sebastian Kurz, and the foreign ministers of Liechtenstein and Luxembourg, Aurelia Frick and Jean Asselborn. The security issues covered in Salzburg included new challenges such as cyberattacks and the prevention of violent extremism. Mr Burkhalter emphasised Switzerland's efforts within the UN group of governmental experts (GGE) on cybersecurity to ensure compliance with international standards in the cybersphere. He made it clear that joint efforts would be needed to overcome the current security challenges faced by the countries. In this regard he praised the effective cooperation, direct contacts and mutual trust between Switzerland, Austria, Liechtenstein, Luxembourg, and Germany, whose foreign minister Sigmar Gabriel was unable to attend.
Cooperation between the partner countries was also close in the multilateral sphere and in areas of mutual interest, Mr Burkhalter said. The four foreign ministers discussed the migration crisis, the situation in Europe in the wake of the UK's decision to leave the EU and shared commitments at international level such as the abolition of the death penalty.
Areas of shared interest covered in today's discussions included vocational education and training and the promotion of the German language. There is a dense network of contacts between the countries' vocational sectors. Furthermore, Switzerland, Austria, Liechtenstein, Luxembourg and Germany work closely together on projects and in joint working groups in this area. Mr Burkhalter also pointed out that the 3rd International Congress on Vocational and Professional Education and Training, which will take place in June 2018 in Winterthur, was a good platform for dialogue and the exchange of best practice between experts and decision-makers in the sector.
In 2014 at their meeting in Berlin, the foreign ministers of the German-speaking countries agreed on joint efforts to promote the German language. On this topic Mr Burkhalter mentioned the International German Teachers' Conference which will take place at the start of August. The conference, whose theme is building bridges with the German language, will be held in the bilingual city of Fribourg. The event is sponsored by two German teachers' associations in Switzerland and the Swiss federal government. Mr Burkhalter is a patron of the conference.
---
Address for enquiries:
Information FDFA
Bundeshaus West
CH-3003 Bern
Tel.: +41 58 462 31 53
Fax: +41 58 464 90 47
E-Mail: info@eda.admin.ch
---
Publisher: