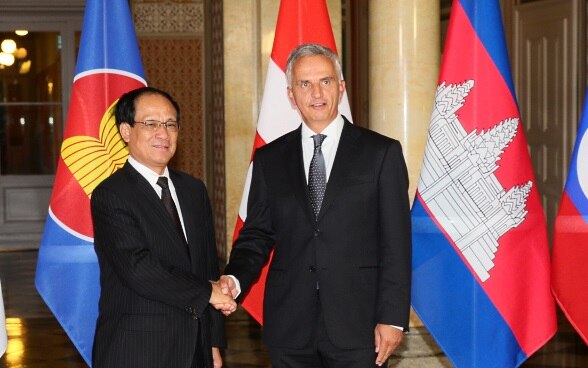 The Secretary-General of ASEAN, Lê Lương Minh, made his first official visit to Bern to mark one year of partnership between Switzerland and the Asian organisation: Switzerland obtained the status of sectoral dialogue partner of ASEAN just over a year ago, on 24 July 2016. This partnership is an opportunity to achieve growth and develop ties and Switzerland's interests in southeast Asia. Didier Burkhalter, head of the Federal Department of Foreign Affairs, received him for a courtesy visit during the afternoon. The two men reminisced about ASEAN's fiftieth anniversary, celebrated last August in Manila (Philippines) with the organisation's member states and partners in attendance.
They then proceeded to discuss ASEAN's strategic significance for Switzerland. The association's member states form a market with a strong growth rate and over 600 million people, which presents major potential for the Swiss economy. Trade between EFTA and ASEAN's member states is trending upwards and is worth over CHF 21 billion a year.

The Federal Councillor and Secretary-General also talked about the objectives of their partnership and future areas of cooperation, based on a list of priorities drawn up by both parties. Cooperation will be increased mainly in three areas: climate change and disaster risk reduction, the advancement of human rights, and sustainable development – with special emphasis on vocational training.
Switzerland is already closely involved with southeast Asia through its international cooperation, whereby it contributes to reducing developmental disparities between countries in the region and to supporting and increasing national capacities through peacebuilding.
The region's security architecture was also discussed. Didier Burkhalter noted the importance of ASEAN's role in maintaining peace and regional stability. He also acknowledged the recent progress in finding peaceful solutions to the territorial disputes in the South China Sea. Further discussion topics covered the current crisis on the Korean peninsula and the situation of Myanmar's minorities. Both men emphasised that enhanced dialogue plays a big part in reducing tensions and strengthening regional security. Didier Burkhalter indicated that Switzerland was prepared to lend its support to the efforts of national and regional actors and organisations in building peace.


The Association of Southeast Asian Nations (ASEAN) was established on 8 August 1967 in Bangkok. Its member states are Vietnam, Thailand, Indonesia, Malaysia, the Philippines, Singapore, Brunei Darussalam, Myanmar, Laos and Cambodia. Its mission is to strengthen cooperation and mutual assistance between its members, provide a forum to resolve regional problems and speak with one voice in international negotiations. ASEAN has 15 institutional partners including Switzerland.
---
Address for enquiries:
Information FDFA
Bundeshaus West
CH-3003 Bern
Tel.: +41 58 462 31 53
Fax: +41 58 464 90 47
E-Mail: info@eda.admin.ch
---
Publisher: