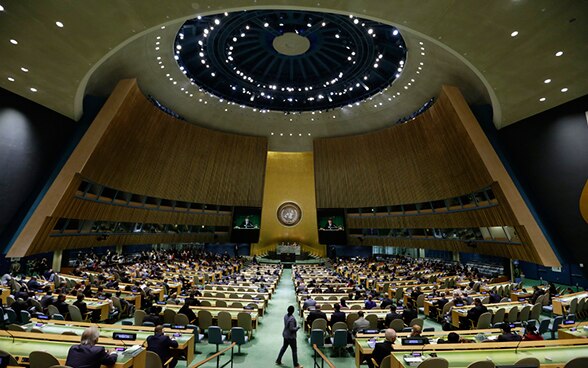 At the UN's headquarters in New York, Mr Burkhalter reiterated his appeal, made last week in Geneva, for water management, which can become a source of conflict in situations of water scarcity, to be a vehicle for peace. The recommendations put forward last week by the Water, Peace and Security panel launched by Switzerland were discussed in New York. The participants explored how to promote cross-border cooperation on water management, particularly in the Middle East.
Mr Burkhalter also called for the establishment of a group of likeminded countries determined to promote water management as a driving force for peace and security in the world. He noted that alongside the Geneva Water Hub, which is expected to expand its operations in Switzerland, "we also want to enlist other countries' support for our initiative". Mr Burkhalter thinks that mobilising stakeholders in New York should result in a Security Council resolution to address this issue of vital importance for the future of the planet.
Mr Burkhalter also called for improved conflict prevention through the coordinated use of the various instruments available to the UN, including those to strengthen peace and security, defend human rights and implement development policies. "The appeal of 13 June 2016, a Swiss initiative calling for enhanced cooperation between the Security Council in New York and the Human Rights Council in Geneva in order to anticipate the outbreak of conflicts, is a good example," noted Mr Burkhalter.
With respect to the abolishment of the death penalty, Switzerland also wants the efforts made at the Human Rights Council in Geneva to be combined with those being undertaken at the UN in New York. Switzerland has therefore joined the Global Alliance to end trade in tools of torture and capital punishment. This initiative is in keeping with the ban on the export of and trade in pharmaceutical products used for executions, which was passed by Parliament last year.
Mr Burkhalter also expressed Switzerland's interest in continuing to support efforts to streamline the UN and reform its operations by taking part in a high-level meeting on the issue chaired by US President Donald Trump. The meeting was also an opportunity for the new Secretary-General of the UN to take stock of his reform agenda.
In a number of meetings with colleagues from other foreign ministries, Mr Burkhalter also discussed other political issues that are currently on the agenda.
---
Further information:
---
Address for enquiries:
Information FDFA
Bundeshaus West
CH-3003 Bern
Tel.: +41 58 462 31 53
Fax: +41 58 464 90 47
E-Mail: info@eda.admin.ch
---
Publisher: