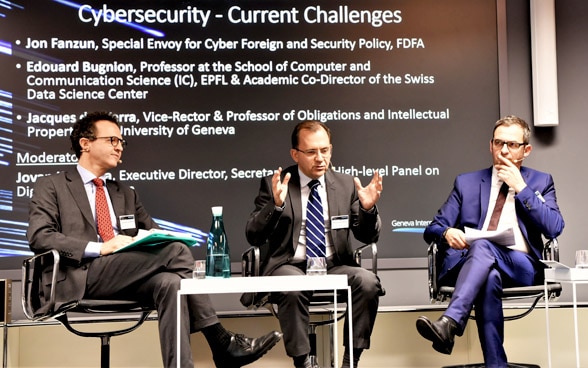 Corinne Cicéron Bühler, head of the DIL, delivered the opening talk at the conference venue, Maison de la Paix in Geneva. She stressed that Switzerland is an open, digitally advanced, and highly networked country and thus relies on a free, secure and stable digital environment that creates a level playing field for all stakeholders. Given the rise in malicious attacks by state and non-state actors and growing data misuse, it is essential to assess how international law can keep pace with these new developments.
The expert panels discussed the technical, legal and ethical challenges posed by digitalisation, both from practical and academic standpoints, and the implications for international law. The panellists explored the interplay between technology, diplomacy and international law and discussed approaches to promoting interactive dialogue between the various stakeholders. The insights gained at this year's International Day should help inform the UN High-level Panel on Digital Cooperation where Switzerland is represented by Federal Councillor Doris Leuthard.
At the event, the DIL also presented two digital transformation and cybersecurity initiatives, scheduled to commence in 2019. A team of experts will be set up, tasked with reviewing the practical application of selected international law principles to cyberspace. There are also plans to establish an international digital democracy network with the aim of promoting digital self-determination – users' control of their own data. International Law Day provided a launchpad for these initiatives as well as DIL's future involvement in international law as it relates to the digital landscape. Some aspects of the debate will continue at different forums in 2019. Geneva is likely to be the venue of choice, given that many key players in the field of digitalisation and international law are based there.
---
Address for enquiries:
FDFA Information
Federal Palace West Wing
CH-3003 Bern, Switzerland
Tel.: +41 58 462 31 53
Fax: +41 58 464 90 47
E-mail: info@eda.admin.ch
---
Publisher: