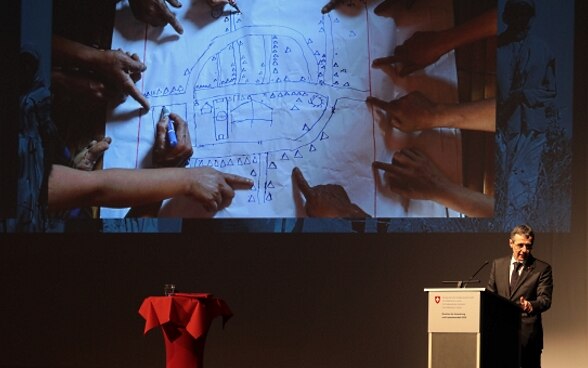 In his speech, Federal Councillor Ignazio Cassis, head of the Federal Department of Foreign Affairs (FDFA) emphasised that "Hunger is the biggest problem that can be solved; it is the greatest contradiction of our time that can be solved." Speaking in front of an audience of about 1,000 participants gathered in the Palais des Congrès in Biel for the annual conference, Mr Cassis highlighted the contradiction of hunger and abundance, stressing the need to find long-term solutions. "Switzerland," he went on to say, "is helping with money, advice and action – for immediate needs and, where required, for the longer term". It is an ongoing effort to combat the causes of hunger and an effort to achieve peace and stability. As Mr Cassis put it: "Hunger is a driver of conflict and instability."
Manuel Sager, director-general of the Swiss Agency for Development and Cooperation (SDC), supported that connection: "In rural areas people are being driven from their fields, and in the cities the food supply is repeatedly interrupted by fighting," he said in a panel discussion with National Councillors Doris Fiala, Luzi Stamm and Claude Béglé, where they debated Switzerland's activities in regard to food shortages. Restricted access to the people affected is also a major challenge for humanitarian aid agencies. "In February 2017, Switzerland made available an additional CHF 15 million to the hunger-stricken countries of Africa and to Yemen," said Mr Sager. "This was necessary because airdrops by the World Food Programme (WFP) cost ten times as much as the usual overland transport that was frequently impeded."
The executive director of the WFP, David Beasley, added that acute hunger is spreading dramatically, by up to 55% in the past two years alone. "Especially because of armed conflicts," he said, stressing that the spiral of conflict and hunger creates more instability and in turn more violence, misery and forced migration. "We must break the vicious circle, and we can do it if the world's leaders work towards a more peaceful and prosperous future." Mr Beasley also took part in a panel discussion on the interactions between war and hunger. He was joined by Senegalese writer Ken Bugul, the ICRC's Regional Director for Africa Patricia Danzi and Manuel Bessler, Switzerland's Delegate for Humanitarian Aid.
A discussion with the head of the SDC's cooperation office in Colombia, Fabrizio Poretti, provided an insight into the living conditions of people threatened by hunger. With some 7.3 million people affected, the country still has the most internally displaced people in the world. The effects of 50 years of war with the rebel organisation FARC are still being felt, and many people have to go to bed hungry every night, even in a fertile country such as this. "Colombia could produce enough food, but inadequate land distribution, lack of access to markets and the problem of landmines are all major obstacles to farming," Mr Poretti told the audience. Other experts described new prospects in Niger, the importance of having structures for rapid response in South Sudan and the Horn of Africa, and the damage to health caused by hunger among the Rohingya people.
Finally, the Delegate for Humanitarian Aid, Manuel Bessler, took the floor. He emphasised the necessity to care for the people who are currently starving in this world. "We will do everything we can to achieve zero hunger – we want to end world hunger by 2030. Food supplies alone are not enough, and it is precisely for this reason that Switzerland wants to increase its commitment to assist civilian populations. In the 2030 Agenda for Sustainable Development, the international community of states set the goal of achieving food security and promoting sustainable agriculture.
As every year, the Annual Conference of Swiss Humanitarian Aid and Swiss Humanitarian Aid Unit (SHA) provided a diverse programme for humanitarian actors and other interested participants, highlighting the various facets of their work. Panel discussions, presentations and interviews with members of Parliament and experts from the SHA gave visitors numerous opportunities to experience the commitment of humanitarian Switzerland to help starving populations in crisis areas.
---
Further information:
Swiss Humanitarian Aid Unit @SwissHumAidUnit
The SDC and the World Food Programme
Agriculture and food security
Famine in Africa and in Yemen
Address by the Federal Councillor Ignazio Cassis

---
Address for enquiries:
Information FDFA
Bundeshaus West
CH-3003 Bern
Tel.: +41 58 462 31 53
Fax: +41 58 464 90 47
E-Mail: info@eda.admin.ch
---
Publisher: