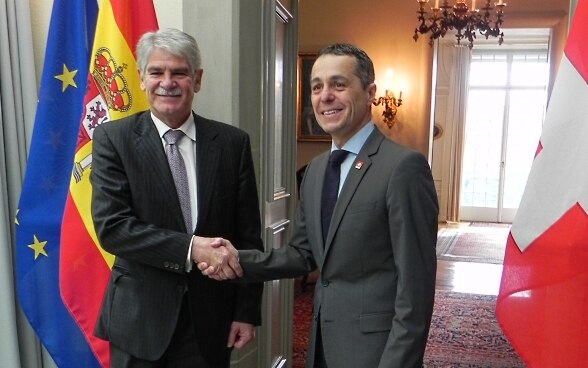 The two ministers met in January at the World Economic Forum in Davos, where they expressed their interest in a future meeting in Switzerland to discuss current European and international issues and elaborate on the bilateral agenda. The last meeting between Swiss and Spanish foreign ministers was in 2013, when Didier Burkhalter travelled to Madrid. 
Swiss-EU relations were a major focus of the meeting between the two ministers. Mr Cassis gave his counterpart an overview of ongoing discussions with the EU and spoke of the strength and long-term nature of Switzerland's ties with the EU and with European countries. He stressed that Switzerland "is at the heart of Europe and closely dependent on it and we are committed to the most secure relationship possible for jobs and trade". He also asked for Spain's support in the discussions with Brussels.
Mr Cassis and Mr Dastis then reviewed bilateral relations between Switzerland and Spain, touching on political and economic aspects such as scientific collaboration, the fight against corruption and mutual legal assistance. In addition, Mr Cassis wished to discuss with Spain the improvement of cross-border trade in financial services between the two countries. The situation in Catalonia was also broached, including the imminent formation of a regional government. Mr Cassis reiterated the position of Switzerland, which considers the issue to be a matter of domestic policy to be regulated within the Spanish constitutional framework. Mr Cassis said that Spanish nationals in Switzerland were covered by the Agreement on the Free Movement of Persons and were entitled to speak freely on political matters in accordance with Swiss law. The two ministers emphasised the need to settle these issues through the courts.
On international political affairs, Mr Cassis and Mr Dastis discussed the situation in the Middle East, in particular the recent events in Syria. They referred to the involvement of the international community and the need to support the diplomatic process in this conflict. The respective positions of Switzerland and Spain on the Chinese Belt and Road initiative were also discussed.
Spain was a non-permanent member of the UN Security Council in 2015–16, a position for which Switzerland is a candidate in 2023–24. This experience was therefore among the subjects discussed. Spain and Switzerland share several areas of multilateral cooperation. As members of the Human Rights Council, both countries are committed to respect for international law and human rights, and to a world without death penalty. More generally, Mr Cassis pointed out that International Geneva is an important centre for NGOs and multilateral organisations.
Relations between Switzerland and Spain are characterised by mutual appreciation and close ties between the peoples of the two countries in areas such as tourism, migration and work, culture and trade. Spain is Switzerland's ninth largest trading partner, thanks in particular to strong trade in pharmaceuticals and chemicals. Some 83,000 Spanish nationals live in Switzerland, while over 25,000 Swiss citizens reside in Spain.
---
Further information:
Bilateral relations Switzerland-Spain

---
Address for enquiries:
Information FDFA
Bundeshaus West
CH-3003 Bern
Tel.: +41 58 462 31 53
Fax: +41 58 464 90 47
E-Mail: info@eda.admin.ch
---
Publisher: