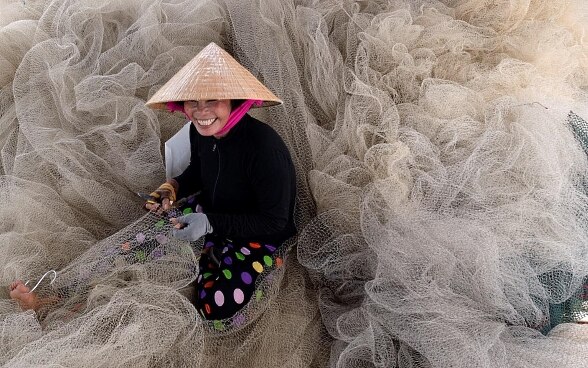 Last year Switzerland made significant strides towards implementing the Dispatch on Switzerland's International Cooperation 2017–2020. This policy document sets out the Federal Council's main strategic directions for the period, which are to reduce poverty and global risks, alleviate need, and promote peacebuilding and human rights. Switzerland's objective in international cooperation is to attain durable, environmentally sound global development through the sustainable management of natural resources. This commitment is in Switzerland's own interests, as our prosperity and security are both largely determined by the international context. Aid on the ground and efforts to reduce poverty can also help to curb migration.
Poverty reduction took a central role in efforts to implement the new Dispatch in 2017. For example, Switzerland increased its engagement in education and vocational skills development last year. This enabled 20,000 children affected by conflict in Central Africa to complete their school education. Many young people in rural areas were able to find jobs or improve their incomes thanks to vocational skills training geared to their local labour markets.
Efforts to address major global challenges were also given high priority in 2017. At a conference to mark the 25th anniversary of Switzerland joining the World Bank, Federal Councillor Johann Schneider-Amman and World Bank President Jim Yong Kim recognised the importance of multilateral partnerships in overcoming global challenges and discussed how multilateral partnerships could be better exploited to implement the 2030 Agenda and its 17 Sustainable Development Goals.
Over 80% of Swiss programmes and projects in 2017 were effective in terms of meeting their objectives; this was concluded by experts on the ground as well as independent external evaluations. Evaluating and measuring outcomes is an important part of international cooperation, not least as a means of accountability in the use of public funds.
---
Further information:
Annual Report «Swiss International Cooperation 2017»
SECO: Economic Cooperation and Development: Annual reports

---
Address for enquiries:
Information FDFA
Bundeshaus West
CH-3003 Bern
Tel.: +41 58 462 31 53
Fax: +41 58 464 90 47
E-Mail: info@eda.admin.ch

Communication SECO
Tel.: +41 58 468 60 56
medien@seco.admin.ch
---
Publisher: