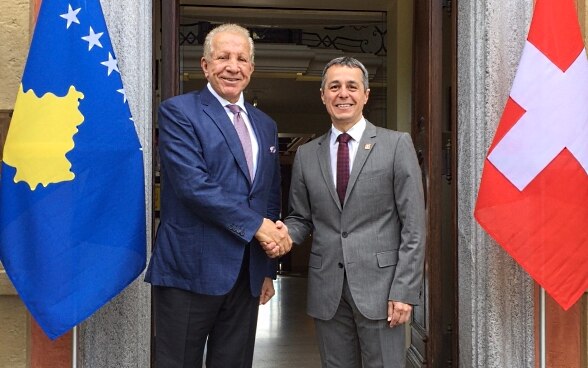 Mr Cassis received Kosovo's foreign minister in Lugano in his capacity as head of the Federal Department of Foreign Affairs (FDFA). When Kosovo declared independence ten years ago, Switzerland recognised the newly-created state ten days later. Mr Cassis highlighted these good relations between the two countries, which are also characterised by close human ties – the Kosovo diaspora in Switzerland is around 200,000 strong.
During their talks, the two ministers discussed the current situation in Kosovo and the evolution of bilateral relations between their two countries over the last decade. Referring to areas where more progress could be made, Mr Cassis noted in particular Switzerland's efforts to help Kosovo combat corruption and promote the rule of law. He also mentioned the social security agreement signed by both countries on 8 June 2018. In addition, Mr Cassis emphasised Switzerland's civilian engagement in Kosovo since 1999 as well as the Swisscoy military contingent under KFOR.
The two foreign ministers went on to discuss relations between Kosovo and Serbia. Mr Cassis underlined the need for dialogue between Belgrade and Pristina with a view to normalising relations between the two countries. He also pointed out that stability and development in the Western Balkans were an important factor for Switzerland.
---
Further information:
Bilateral relations Switzerland–Kosovo
SDC: Swiss contribution

---
Address for enquiries:
Information FDFA
Bundeshaus West
CH-3003 Bern
Tel.: +41 58 462 31 53
Fax: +41 58 464 90 47
E-Mail: info@eda.admin.ch
---
Publisher: