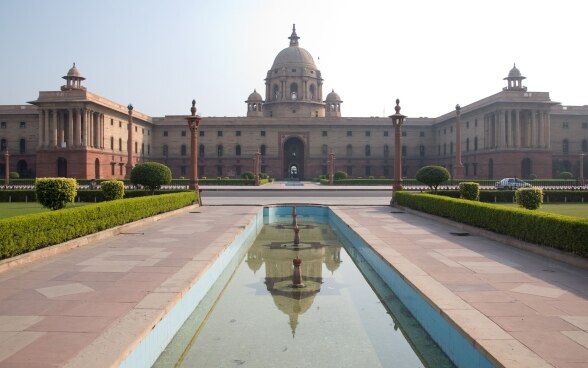 Mr Cassis will begin his trip with a visit to a centre of Indian modernity and technology: Noida, a planned industrial area on the outskirts of New Delhi which was founded in 1976 and is now a city in its own right. In Noida, Mr Cassis will visit the offices of Tata Consultancy Services (TCS), designed by Swiss architect Mario Botta. TCS is a global technology giant that employs some 250,000 people in 42 countries, including 5,000 in Switzerland. Mr Cassis will also meet the founders of PayTM, a start-up established in 2010 which offers innovative mobile telephony solutions and which was recently granted a banking licence that will enable it to become India's first private bank.
During his meeting with India's Minister of External Affairs, Sushma Swaraj, Mr Cassis will take stock of relations between the two countries with a view to further developing them where it is in the interests of both countries. Trade and investment between Switzerland and India have grown in recent years, and India is now Switzerland's second largest trading partner in South Asia. The two ministers will also seek to advance negotiations on a free trade agreement between India and the European Free Trade Association (EFTA).
They will also discuss this year's entry into force of the automatic exchange of financial account information in tax matters between India and Switzerland. Mr Cassis will seize the opportunity to explain that Switzerland's financial centre is beyond reproach and that undeclared assets will not be tolerated in Swiss accounts. The two countries also want to step up collaboration in the fields of education, science and research, and in efforts to address climate change.
Mr Cassis and Ms Swaraj will exchange views on cooperation in multilateral forums, especially on the issues of arms control (nuclear weapons in particular), climate change, United Nations reform and the Human Rights Council. Mr Cassis will also address regional policy and India's relations with its neighbours, especially China, Pakistan and Bangladesh.
After New Delhi, Mr Cassis will travel to Varanasi (formerly Benares), a city in northern India that is considered the nation's spiritual capital and the centre of Hinduism. Mr Cassis will gain insights into India's cultural and religious diversity in Varanasi and while visiting India's largest mosque, Jama Masjid – which can accommodate over 25,000 faithful – during his first day in Delhi.
---
Further information:
Bilateral relations Switzerland–India

---
Address for enquiries:
Information FDFA
Bundeshaus West
CH-3003 Bern
Tel.: +41 58 462 31 53
Fax: +41 58 464 90 47
E-Mail: info@eda.admin.ch
---
Publisher: