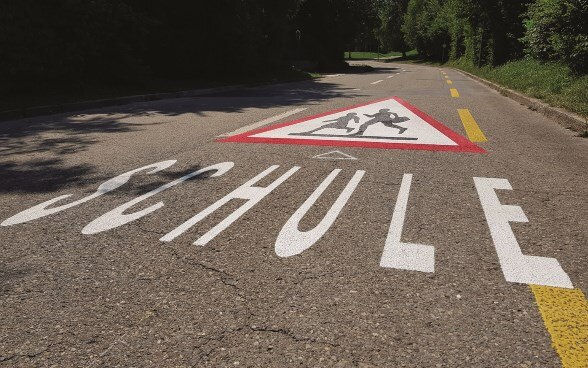 A high quality education, multilingualism and integration, decentralised and democratically legitimised organisation, a good preparation for working life: these and other characteristics of the Swiss school system contribute greatly to the economic success and social cohesion of Switzerland. As part of its commitment to education, the SDC intends to make these strengths of greater use to its partner countries.
For this purpose, it has commissioned the University of Teacher Education Zug (PH Zug) to study the characteristics of the Swiss school system and to assess their added value as inspiration for international cooperation. "A solid education is the fundamental basis for individual, economic and social development – an investment that pays off in the long run," said Thomas Gass, assistant director general of the SDC, at the public presentation of the results. Much store is set by compulsory education in Switzerland, and investment is accordingly high. "This attitude also inspires the SDC in its development cooperation activities, which is why, in addition to its well-established vocational training programmes, basic school education is gaining in importance for the SDC," continued Mr Gass. 
The study is based on discussions with around 30 experts from the Swiss school system, supplemented by additional document analyses. Five characteristics of the Swiss basic education system have emerged as particularly promising for development cooperation:
• the high regard for compulsory school education among the public and the authorities and its capacity to foster integration
• the decentralised and thus locally driven educational organisation
• multilingualism
• the teaching of skills required for life and for the workplace during compulsory schooling
• the high permeability of the education system
They are particular sources of inspiration because internationally they are regarded as good practices.
Based on the findings of the study, the SDC would like to build on existing partnerships with development cooperation organisations by establishing exchanges with Swiss school institutions, cantons and communes. This should lead to a direct exchange of knowledge and experience between specialists and managers from the school system in Switzerland and their counterparts in SDC partner countries. The SDC's objective is to leverage Swiss expertise in order to sustainably strengthen Switzerland's international cooperation work.
The SDC has long been committed to equal access to education for all, especially for disadvantaged groups such as children and young people excluded from the school system, children in conflict zones, nomadic and refugee children and the rural poor in general. It is currently actively involved in ensuring a good school education with 60 projects in 18 countries – mainly in sub-Saharan Africa, the Middle East, and South and East Asia. One successful example is Mali, where despite the ongoing conflict over the past four years 500,000 children have been able to attend school and make progress in reading, writing and arithmetic thanks to Swiss support.
This commitment remains indispensable, because around 263 million children worldwide still have no access to a school education, for reasons due among other things to poverty, lack of schools, cultural barriers, wars or displacement. A further 330 million children learn nothing, even if they are in school, because the quality of teaching is so poor. Against this backdrop, Parliament has increased funding for basic education and vocational education and training by 50% within the framework of the Dispatch on Switzerland's International Cooperation 2017–2020.
---
Further information:
Final report "Best practices in Swiss school education and potential added value for the SDC" (German)
Brochure "Impulses for international cooperation in education – experiences of Swiss school education" (German)
SDC – Universal right to basic education

---
Address for enquiries:
Information FDFA
Bundeshaus West
CH-3003 Bern
Tel.: +41 58 462 31 53
Fax: +41 58 464 90 47
E-Mail: info@eda.admin.ch
---
Publisher: