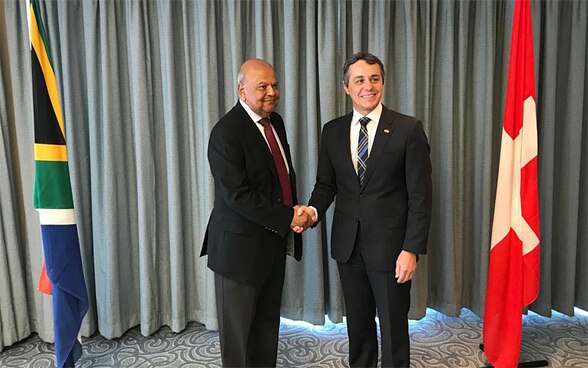 Mr Cassis expressed Switzerland's readiness to share its experiences, for example in apprenticeships, which is an area of great interest to South Africa as a remedy for its high level of youth unemployment.
He also called for an acceleration in negotiations between the SACU states, including South Africa, and the European Free Trade Association (EFTA) in order to modernise and develop the existing free trade agreement with a view to obtaining market access for the EFTA states similar to that obtained by the European Union.
Lastly, Mr Cassis asked that the issue of the investment protection agreement terminated by South Africa in 2013 be discussed again immediately after the May elections. Such an agreement would be likely to encourage Swiss companies to invest in South Africa, which is in keeping with the wishes of the new government in Pretoria.
The talks also focused on migration, encompassing issues relating to the high levels of immigration to South Africa from neighbouring countries and also from other African nations further afield. Switzerland is actively involved in this area, supporting among other things urban development programmes that help to better absorb these migration flows. Between 2017 and 2020, Switzerland is investing CHF 55 million in South Africa through SECO (EAER) programmes.
---
Address for enquiries:
FDFA Information
Federal Palace West Wing
CH-3003 Bern, Switzerland
Tel.: +41 58 462 31 53
Fax: +41 58 464 90 47
E-mail: info@eda.admin.ch
---
Publisher: