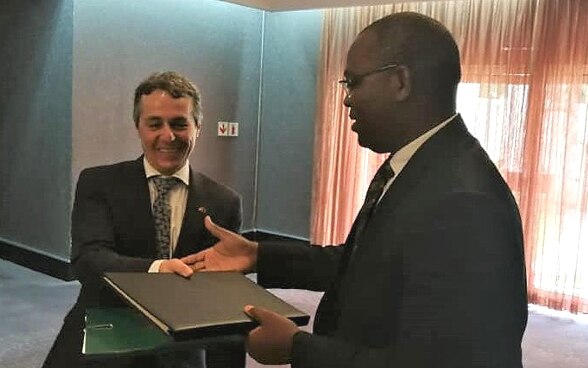 Bilateral cooperation between Switzerland and Zambia, the country's economic reforms and regional policy were at the centre of the discussions between Mr Lungu and Mr Cassis. In particular, Mr Lungu called on partner countries and private companies based in Zambia to invest in the education of young Zambians, believing that this is the key to his country's future economic success. Regarding relations between Switzerland and Zambia, Mr Cassis and Mr Lungu agreed that "the two countries can do more together".
A first concrete step was taken in the signing of the air services agreement. This agreement guarantees well-defined access for civil aviation (security, repatriation of revenue, environmental protection, possibility of cabotage, etc.). This development of closer ties between the countries, which follows the signing of a double taxation agreement in 2017, is beneficial for the Swiss economy. The two signatories expressed the wish that the agreement soon be followed by the opening of a direct air link between Lusaka and Zurich or Geneva. This would help to stimulate economic relations between the two countries. For the moment, relations between Switzerland and Zambia remain modest, but could be improved, as shown by the visit of a Swiss economic delegation to the country last October. It is however a more global trend, which saw foreign direct investment in Zambia grow by 64% in 2017.
This sharp increase is primarily due to significant investment in copper mining, a sector that accounts for 15.4% of the country's GDP. Federal Councillor Cassis had the opportunity to observe the importance and dynamism of companies in this sector first hand. On Monday, he visited Mopani Copper Mines, a company in northern Zambia in which Glencore (headquartered in Switzerland) is the main shareholder.
This company has invested heavily in modernisation. Since 2000, some CHF 4.4 billion have gone into transforming the mine. Harmful emissions have been significantly reduced**. An additional CHF 1.5 billion will be invested in the coming years. The company, which employs some 16,000 people, also invests in continuing education and training for young people (5.2 million this year) and offers some 300 apprenticeship places per year. At the end of his visit, Mr Cassis said he was "impressed by the efforts made to modernise the facilities and improve education for young people".
** Corrigendum: The second part of the sentence "and are now in compliance with the limits imposed by the World Health Organization (WHO)" was deleted on 18 January 2019.
---
Further information:
Bilateral relations Switzerland – Zambia

---
Address for enquiries:
FDFA Information
Federal Palace West Wing
CH-3003 Bern, Switzerland
Tel.: +41 58 462 31 53
Fax: +41 58 464 90 47
E-mail: info@eda.admin.ch
---
Publisher: