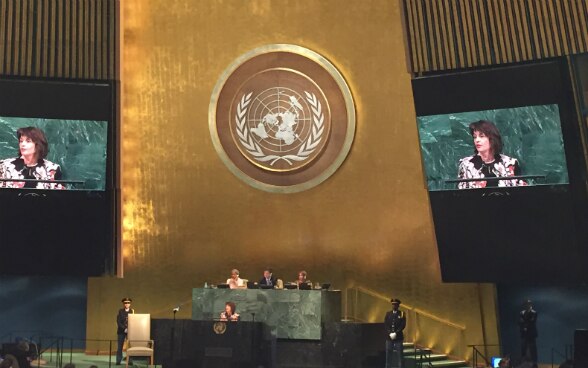 In her speech before the General Assembly, President Leuthard stressed the relevance of the UN: "No country, no actor alone can find solutions to the challenges of today. (…) we need the UN, and we need a strong UN."
The president explained that: "It is important that the UN focus on issues that are of high relevance both now and in the future. (…) I am thinking of the 2030 Agenda, the Paris Climate Agreement, and efforts to shift resources from post-conflict activities towards prevention." Migration, digitalisation and management reforms also feature on the list of priorities: "A strong UN system means an efficient and modern UN system."
In her closing remarks, Ms Leuthard emphasised Switzerland's belief that the commitment to a functioning multilateral system, and particularly to an effective UN, was worthwhile: "In view of the challenges and the interconnectedness of the world today, going it alone is not an option."
Ms Leuthard undertook other engagements on the fringes of the UN General Assembly in New York. She gave a speech on current issues regarding international law at Columbia University's World Leaders Forum entitled 'Rule of law or law of the jungle'. At the series of events launched in 2003, leading figures from politics, business and science regularly address students and the public. This year's UN Private Sector Forum will focus on the issue of how to finance the 2030 Agenda.
Bilateral meeting with British Prime Minister
President Leuthard also took the opportunity to hold a number of bilateral meetings. The focus of discussions during her meeting with British Prime Minister Theresa May was on relations between Switzerland and the UK against the backdrop of the UK's departure from the EU (Brexit). Informal work on implementing Switzerland's 'Mind the gap' strategy is progressing. The Federal Council's strategy aims to safeguard and possibly extend the existing mutual rights and obligations between the two countries beyond Brexit.
Talks between Switzerland and the UK on a future bilateral legal framework will continue intensively over the coming months, as Ms Leuthard and the British prime minister jointly explained on Tuesday. Other subjects addressed during the talks included the fight against terrorism, preventing violent extremism and both countries' commitment to ending human trafficking.
---
Further information:
DETEC: 72nd General Assembly of the United Nations (in german)
FDFA: 72nd UN General Assembly

---
Address for enquiries:
Brigitte Hauser-Süess
DETEC Press and Information Service
+41 79 292 08 77
brigitte.hauser-sueess@gs-uvek.admin.ch
---
Publisher:
Federal Department of the Environment, Transport, Energy and Communications
Federal Department of Foreign Affairs