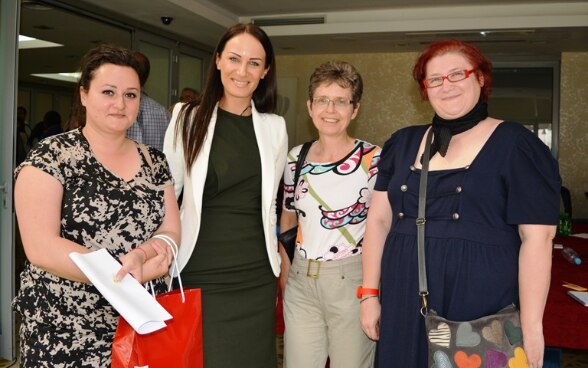 The Cooperation Team of the Swiss Embassy presented to the gathered guests major achievements of 20 years of Swiss Cooperation Programme in BiH focusing on three main domains of work: Democratic Governance, Municipal Services and Justice; Health; and Economy and Employment. The participants also received an outlook into upcoming Cooperation Strategy 2017 – 2020. Important parts of the roundtable agenda were also discussion about the potential of migration and diaspora for development by creating synergies between NGOs, BiH diaspora and Swiss Cooperation and exchange of the information about challenges and the role of (Swiss) NGOs in case of natural hazards in BiH and the region through Disaster Risk Reduction and Management. It was interesting to hear about the lessons learned from the floods, how active engagement, humanitarian assistance and good cooperation between BiH diaspora associations, NGOs and relevant institutions in BiH are important during natural hazards.
The representatives of the Swiss NGO's active in BiH presented and compared their different platforms, strategies and objectives, promoted their achievements, but also exchanged experiences on difficulties, obstacles and possible solutions related to NGOs' daily work in BiH. In focus of the information exchange and discussions were interesting topics such as empowerment of young people, especially young girls, intercultural exchange for youth, educating people to take responsibility for their country and their lives, spreading enthusiasm, working towards improvement of different areas (healthcare, education), sustainable economic development, creating jobs, environmental issues, mine action, agriculture sector and involvement of diaspora. The participants concluded that the established contacts with other NGO colleagues and the Swiss Embassy Team will enable better cooperation, including the easier and faster exchange of important information. Next meeting will be held in 2017.
Afterwards guests visited the photo exhibition "20 years – 20 faces and stories" showcasing examples of good practices of 20 years of Swiss Cooperation Programme in BiH.