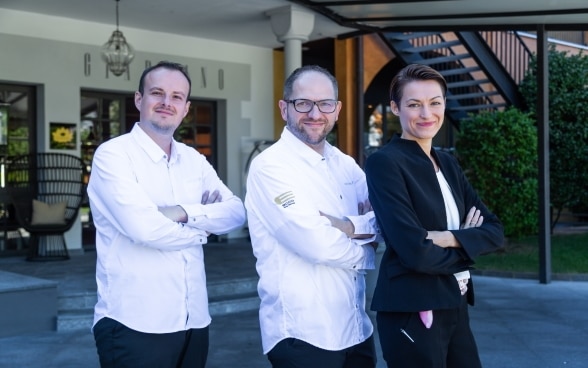 Rolf Fliegauf, founder and executive chef of ECCO restaurant at hotel Giardino in Ascona, is going to excite Beijing palates with the finest cuisine that retains its ingredients' original flavours, reproduces Swiss nature onto the plates, and reinvents Swiss food tradition for the 5th Swiss Gastronomic Week jointly organised by the Embassy of Switzerland in China and Hotel Éclat.
"The Swiss Gastronomic Week is a perfect opportunity to introduce modern Swiss fine dining and Swiss cuisine to Chinese food lovers. As a multilingual and multicultural country, Switzerland prides itself on its diverse culinary culture. Modern Swiss gastronomy is one slice of today's Switzerland, which is innovative and dynamic. By having the top chefs over, the Gastronomic Week brings the taste of Switzerland directly to Chinese palates, which in turn strengthens friendship between the two nations of excellent food cultures," said Bernardino Regazzoni, Swiss ambassador to China.
For the 5th Gastronomic Week, Chef Fliegauf along with his team spent four weeks to create a menu catering to diners at the Chinese capital and is quintessentially Swiss.
"The dishes that we will cook in Beijing are a showcase of Swiss gastronomy. Some classic and traditional dishes reinterpreted, inspired by nature, all presented with a modern twist," said Fliegauf, 39, who was awarded with a two-Michelin star at the age of 29, the youngest chef to get the honour at the time.
The menu starts with "bircher muesli", the typical Swiss breakfast that has taken the world over. But one would be mistaken in expecting overnight oats. The star ingredient of this muesli is goose liver, which is meticulously served with ice cream, pickled apple and caramelised cereal.
For Fliegauf who always gets inspiration from nature, recreating the beautiful Swiss meadows on the plates has been one of his goals for the Gastronomic Week. Hence the "Swiss mountain meadow" dessert. By delicately crafting sorrel sorbet, a green frozen sweet dessert with caramelised milk skin and yoghurt, Fliegrauf and his team present a plateful of Swiss nature to Beijing gourmets. 2/3
Food lovers in Beijing can relish the three course set lunch or five course set dinner from November 7 to 10 at George's Bar & Restaurant of Hotel Éclat.
Boasting 128 Michelin starred restaurants in 2019, Switzerland is known for its high quality gastronomy. With rich culinary heritage and traditional dishes heavily influenced by its farming culture, modern Swiss culinary scene embraces diversities, which has typical Swiss specialties like raclette, but also Mediterranean and Asian cuisines popular with sophisticated dinners.