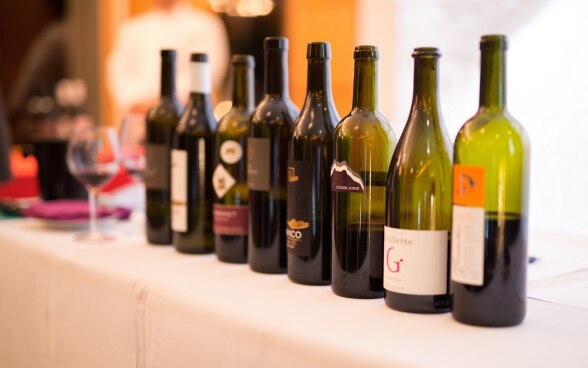 More than 20 distinguished guests and media friends attended the event at the Ambassador's Residence. Swiss wine expert Pierre Thomas, accompanied on this occasion by Nicolas Joss, director of Swiss Wine Promotion, introduced and presented eight unique new types of Swiss wine, most of which was produced from grapes developed by Changins, Switzerland's national centre of excellence for training in viticulture, the study of wine and cultivation of grapevines.
"I want to use this opportunity to not only introduce high quality Swiss wine to my guests but shed some light on artisanal knowledge and research behind these bottles. Most of the wine tonight was made from grapes developed by Changins, which commits itself to breed grapes that are resistant to diseases and are pesticide free. As people pay more attention to health and environment, I believe Swiss wine set a good example for the market and is certainly a pioneer in producing organic wine," said the Ambassador.
With almost 99 percent of it consumed domestically, Swiss wine is indeed a rarity internationally. You should consider yourself lucky if you can get your hand on a glass of Swiss wine outside of Switzerland. But more importantly, Swiss wine, like most Swiss made, is of remarkable high quality. The secret behind that? The grapes developed by Changins,
To produce unique Swiss wine, Changins has been breeding new varieties of grapes since 1960s. First it was to create grapes that can easily adapt to different terrains and climates. Three varieties, Gamaret, Garanoir and Diolinoir, were developed as a result, which winegrowers have been cultivating since 1990.
Later the goal was to develop grapes that are disease-resistant and need little to no pesticides. After 17 years of experiments, Divico, the new red grape variety that is very resistant to diseases, was officially recognized and planted in Swiss vineyards in 2013. Divona, a new white grape variety, which has the same resistance, went on market in 2018. These two varieties require little treatment and are naturally organic.
Three types of wine produced from Divona and Divico were tasted at the event. The two grape varieties are good examples of Switzerland's commitment to cultivate greener grapes and thus making wine of the future that are of premium quality and pesticide free.