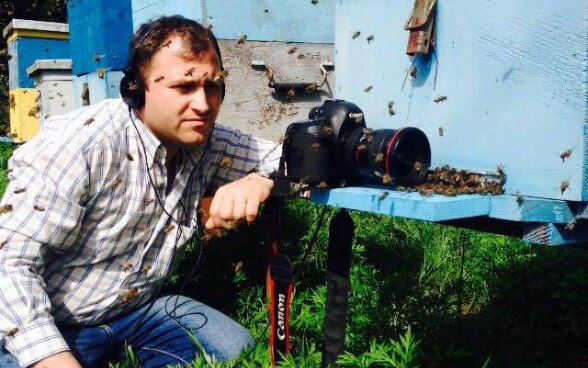 Lettuces over citruses – was the choice of Giorgi Surmanidze, a young ambitious man in his early thirties when back in 2008 he cut down all the citruses on his land plot in Gonio for lettuces. Journalism over flourishing business – was the choice of Giorgi Surmanidze, made in 2012 when he confided his business to his partner and joined the Ajara TV Company to educate farmers.    
"It was revolutionary," remembers Giorgi. "In 2008 to go to Batumi, buy a land plot and instead of growing traditional citruses to start growing unpopular lettuces. Red lettuce, have you heard of it?" he challenges. "We had no knowledge. We were greedy for information, which could only be searched on the web and only in English. But it could not stop us. Georgia is blessed to have a fertile land – you drop a grain, and tomorrow you yield a harvest. And so we started, with information translated from English."
Georgia is a small country with its 50% of population dependent on agriculture and although many communication channels produce agricultural programmes, the most popular source of information for farmers are still neighbours, friends and informal male gatherings.
"For many start-ups the most challenging is to find a market. For us the challenging was to find information. Information has a power only when it is new. What is the point of relaying information everybody is aware of anyway? How can anyone expect a farmer to be successful given the paucity of information, poor access to existing information and no information on unfamiliar agricultural products? At some point I realised that I would be more beneficial if I become a journalist and start educating farmers," continues Giorgi.
A Case Study
To address this information gap and the way agriculture is debated and reported in Georgia, the Alliances Lesser Caucasus Programme (ALCP) conducted research in Kvemo, Samtskhe-Javakheti and Ajara Autonomous Republic  in 2011 and 2014 at farmer level and in the wider environment and  concluded that:
"With regard to agriculture, in general however, what became clear was the terrible deadlock in the sector. There was little or no reference to the private sector just a stymied dialogue between government and farmer with an impossible onus on both, to solve the problems in the sphere. It became very clear that for the agricultural policy itself to move forwards the stalemate needed to be broken. The way it was reported and the capacity of reporters became the focus of a national level ALCP intervention," reads Alliances Information Case Study report.
The programme developed an intervention to address this need centered on specialized trainings for the journalists from all over Georgia. The programme commissioned Heather Briggs, an expert with more than 30 years of professional experience in the industry, to develop a curriculum and provide the training. A key part of the intervention was to prove to them that real agricultural journalism should cover a complex mix of dynamic social issues and technical understanding.  Basic topics on the course included the importance of planning and animal health, the agricultural calendar year, on-farm hygiene, on-farm elaboration of cheese, how wool is produced for sale, the importance of women in farming,  or yet how to attract advertisers for agricultural articles and best practice for slaughter-houses. 6 universities have showed an interest to include modules of agricultural journalism in their courses.
Results in Figures
Coupled with other interventions by the ALCP, the training brought fruition. The media shifted from almost no reporting on agriculture and with only short items included in the daily news, to integrated quality agricultural content in their programming. To date at least 279,217 viewers (including online viewers) have consumed regular quality agricultural information through the facilitated media. Agricultural information has started flowing through social media, online resources have already becoming a source for rural people to get agricultural knowledge thanks to a well-planned multimedia approach: National TV programme "Perma", "Roki's website" and "Mosavali's online video lessons". 9 livestock and 7 beekeeping Mosavali videos have been positively received; sparking comments, debates and self-shot videos from farmers and entrepreneurs across Georgia. One video on Place Selection for Apiary had 40'000 hits on Facebook in the week after release with the next on bee nutrition getting 37'000 views. 69% of farmers feel that they are in stronger bargaining position with buyers since they have access to the information contained in the programme facilitated services, 67% of farmers feel that they are ready to give other farmers an advice on agriculture. 58% of farmers share and discuss information with other farmers received from media services mostly on new regulation on cattle and vaccination.
Giorgi Surmanidze was one of the forty five print and TV journalists who underwent the training. Today he runs the Green Light Studio Production that designs and produces the TV programme "Me Var Phermeri" (I am a Farmer) for the Ajara TV. The programme tops the list of the TV programmes aired by the Ajara TV.
The article is based on the Case Study undertaken by the Alliances Lesser Caucasus Programme and the facts and finding referred to above do not necessarily express the views and opinions of the Swiss Cooperation Office for the South Caucasus.