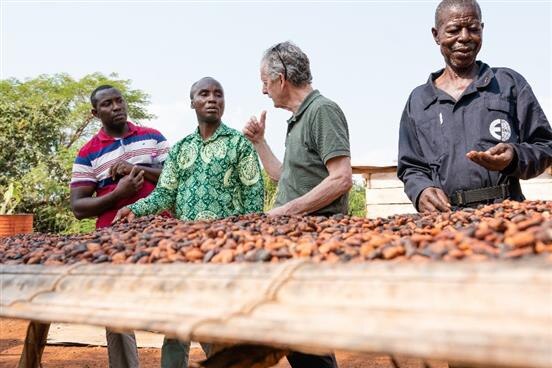 From January 23 to 26, 2019 a delegation from the Swiss Platform for Sustainable Cocoa ("Cocoa Platform") was on its first mission to Ghana. The Cocoa Platform is a multi-stakeholder initiative that aims to promote the resilience and sustainability of the cocoa value chain and enhance the livelihoods of farmers through joint learning and innovative public-private partnership approaches. The Cocoa Platform brings together key stakeholders of the private sector, the Swiss government, civil society organizations and research institutions.
The Cocoa Platform was launched in July 2017 on the occasion of the visit of the Swiss President, Doris Leuthard, to Ghana. In Ghana, the Cocoa Platform scales up Switzerland's support to the cocoa sector by co-financing initatives from the Swiss private sector and engaging in a close policy dialogue with the Ghana Cocoa Board (COCOBOD) through regular high-level consultative meetings. Under the Cocoa Platform the Swiss chocolate manufacturing industry commits to source 80% of its cocoa beans from sustainably sources by 2020. Ghana is Switzerland's foremost sourcing country, with over 60% of all cocoa beans being sourced from Ghana. 
The delegation from Switzerland was comprised of Mr. Ernst A. Brugger, president of the platform, Mr. Urs Furrer, board member and president of Chocosuisse – the Swiss industry association of chocolate manufacturers – and Ms. Christine Mueller, executive secretary of the platform. 
Led by the Chargé d'affaires a.i., Mr. Matthias Feldmann, the Embassy of Switzerland facilitated the first consultative meeting with the senior management of the Ghana Cocoa Board. In the consultative meeting the challenges the cocoa sector is facing were addressed and opportunities were explored to deepen the partnership between Switzerland and Ghana. 
The delegation also visited cocoa farms in the Ashanti region, which are supported under an initiative of Lindt & Sprüngli and co-financed by Switzerland under the Cocoa Platform, the Cocoa Research Institute of Ghana (CRIG) and the processing plant of Barry Callebaut in Tema. 
For further information:
Swiss Platform for Sustainable Cocoa