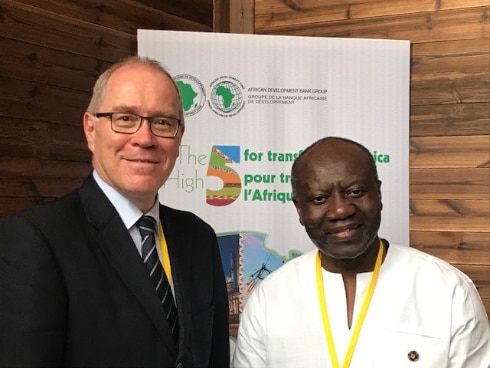 On the sidelines of the Annual Meeting of the African Development Bank (AfDB) in Malabo, Equatorial Guinea, representatives from Ghana and Switzerland came together for a high level bilateral exchange. The Minister of Finance of Ghana, Hon. Ken Ofori-Atta, met with Ambassador Raymund Furrer, in charge of the Economic Cooperation and Development Division and Delegate of the Swiss Government for Trade Agreements.
The meeting, which took place in a very constructive atmosphere and spirit of partnership, focused on the relationship between the two countries in the area of economic cooperation and development.
The progress achieved so far in the frame of the Scaling Up Renewable Energy Program (SREP) has been discussed. In this regards Switzerland planes to engage in Ghana further on the establishment of a Solar Photovoltaic based net-metering system. A well functioning such system would for instance allow owners of small photovoltaic installations to recover their investment by providing excess production to the grid.
Hon. Ofori-Atta also provided insights to the vision of a "Ghana beyond Aid" and emphasized its importance. He further explained that the private sector will play a crucial role towards the achievement of this vision which is fully in line with Switzerland's approach in its economic cooperation as Ambassador Furrer elaborated. As an example he mentioned the cooperation between the two countries in the frame of the Swiss Platform for Sustainable Cocoa. This platform aims at addressing challenges in the sector in a holistic way in particular by fostering public private partnerships and leveraging investments by the private sector.
Hon. Ofori-Atta also underlined his satisfaction with the cooperation between Ghana and the AfDB. He also confirmed Ghana's support towards a stronger AfDB which was seconded by Ambassador Furrer.