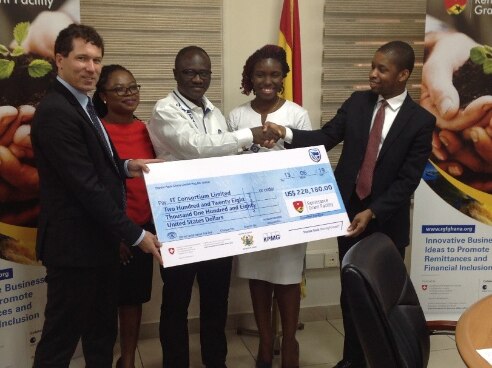 The Remittance Grant Facility (RGF) outdoors winners of its second round of competition. Two indigenous Fintech companies (Nsano Limited, and I T Consortium Limited) were presented with dummy cheques to symbolize the award of grants on at least 50:50 matching funds basis while a third winner is expected to receive its cheque shortly.
In the ceremony at the Ministry of Finance, Mr. Sampson Akligoh, the Director of the Financial Sector Division and. Mr. Daniel Lauchenauer, Deputy Head of Cooperation at the Embassy of Switzerland to Ghana handed over the cheques to the grant awardees. Mr Akligoh said the RGF provided grants to support the design and pilot testing of new products and services that are affordable to target customers and encourage savings and investment.
Mr Daniel Lauchenauer explained the initiative was part of Switzerland's economic cooperation and development portfolio with Ghana, contributing to the vision of a 'Ghana beyond Aid'. He added that through the Facility the Governments are taking part of the risks away from private sector to foster innovation.
The RGF is a challenge fund established by the Governments of Ghana and Switzerland. It is financed by Switzerland through the State Secretariat for Economic Affairs (SECO) and managed by KPMG International Development Advisory Services (IDAS). The overall aim of the RGF is to facilitate the flow of remittances through formal channels to poor and rural Ghanaians and, in the process, enhance the impact of remittances on economic growth and poverty reduction.
This second round of the RGF competition will award a total of USD 728,180 in grants while USD 750,000 was awarded in the first round of the competition.