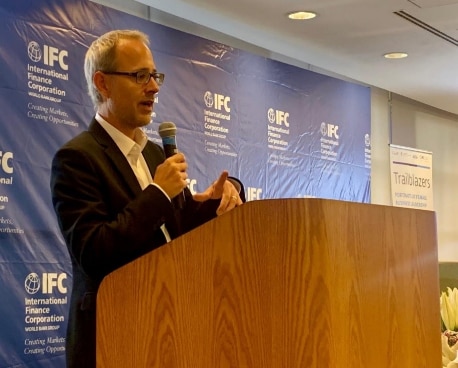 On July 30, the International Finance Corporation (IFC) launched the publication "Trailblazers: Portrait of Female Business Leadership in Emerging and Frontier Markets". The publication showcases pioneering women in business leadership around the world, among them four from Sub-Saharan Africa. The publication is part of IFC's Women on Boards Program. The program is supported by Switzerland through the Africa Corporate Governance Program.  

The launch event was attended, among others, by the HE, the First Lady of the Republic of Ghana, Mrs. Rebecca Akufo-Addo and the four African trailblazers; Anne Kabagambe, Executive Director for Africa, WBG, Soula Prexenos, Non-Executive Director, Shelter Afrique, Wambui Mbesa, CEO Intrasoft International East Africa and Nora Bannerman, CEO Sleek Garments Export.

In her remarks, HE, the First Lady of the Republic of Ghana, reiterated the significance of diversity in leadership and how this benefits companies, communities and economies. To enhance gender equality, she reaffirmed Government of Ghana's commitment towards improving access to education for girls. According to her, the implementation of the "Free Senior High School" policy is contributing to the reduction in the dropout rate among girls at the high school level.

Matthias Feldmann, the Chargé d'affaires a.i. of the Embassy of Switzerland highlighted that "creating equal opportunities for women and men has always been a key concern of Switzerland's economic development cooperation". He pledged that Switzerland will continue to support initiatives that facilitate and strengthen greater diversity and gender equality in the private and public sectors.