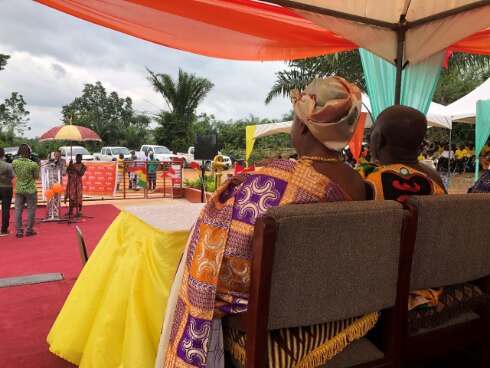 On August 30, the Chargé d'affaires a.i. of Switzerland, Matthias Feldmann, attended the official inauguration of the cocoa fruit juice factory of the Swiss company, Taste Cocoa / Koa, together with high level government officials and other dignitaries.
Taste Cocoa is a young Swiss company founded in 2018. The company is the first in West Africa to process the pulp of the fresh cocoa fruit into cocoa juice and export it to international markets where it is used either as a final or as an intermediate product. The factory in Assin Akrofuom operates according to sustainable and resource-efficient principles by using solar energy for power. Currently the company employees 30 people in Ghana and works together with 800 small holder farmers from the Assin Akrofuom area, who are earning up to 30% in additional income through selling their pulp instead of letting it go to waste.
In addition to private investments, the project was supported with a co-financing grant from Switzerland's REPIC program which supports innovative private sector initiatives in the areas of renewable energy and resource efficiency.
In his welcome remarks, the Chargé d'affaires a.i. of Switzerland, Matthias Feldmann, highlighted the importance of this project for the cooperation between Switzerland and Ghana. In particular he highlighted how the projects contributes to local value addition, job creation, technology transfer and the sustainable use of resources, aspects which are critical for Switzerland's economic development cooperation with Ghana.