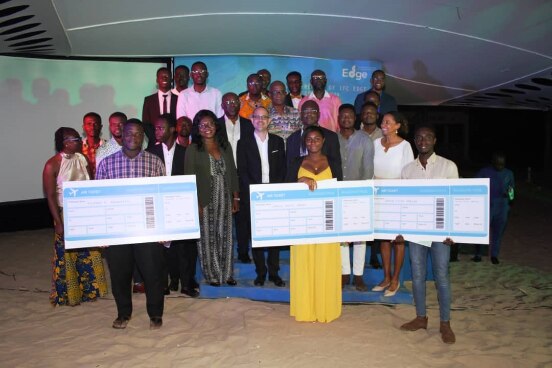 On August 27, the maiden edition of the IFC EDGE student architectural design competition came to a climax with an awards event to celebrate the winners. David Gifat Ampiaw emerged as the winner of the competition, while the first and second runner up positions went to Olufemi Abodurin and Cheryl Omani-Baah respectively. In additionto a free EDGE expert training, the winners of the competition were each presented with a ticket for an all-expense paid trip to participate in the upcoming Green Building Conference in Cape Town, South Africa.
Twenty students from the Architectural Department of Central University College were pre-selected for the competition with 18 participating successfully to the end. To prepare the students for the competition, IFC organized a training session on the EDGE software to give them a better insight on designs and building which would pass as green. The students also received coaching and mentoring throughout the process from the judges, lecturers and other EDGE experts. In line with the objective of the competition, the students designed green buildings that had features of green and, in particular, reduced embodied materials, energy and water use by 20% relative to conventional buildings. 
Mr. Matthias Feldmann, the chargé d'affaires a.i.of the Embassy of Switzerland in Ghana congratulated all the students for accepting the challenge to be part of the maiden edition. He expressed his delight at the outcome and noted that the highlight of the competition was the investment in the human capital. He further reiterated Switzerland commitment to support countries such as Ghana, towards their transition to green and climate friendly economies through programs such as EDGE. 
David Gifat Ampiaw, winner of the competition, was grateful to IFC and Switzerland for organizing this competition and urged other architectural students to seize the opportunities by participating in future competitions. According to him, he has been inspired for the future and will, therefore, take the learning and opportunities to be an ambassador of green and sustainable architecture and buildings.