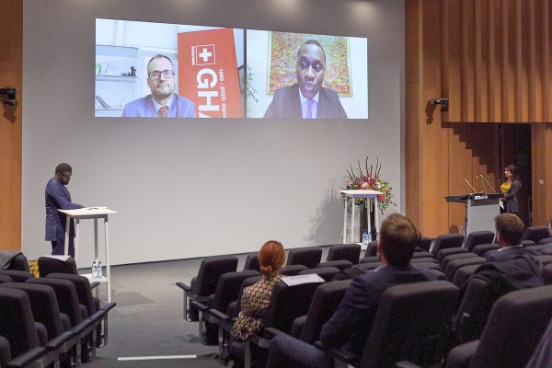 Lecturers and professors from Ashesi University and ETH will teach in tandem, while helping Ashesi build capacity to independently run the Master's degree programme. At the same time, the ETH community will be gain opportunities to further collaboration with Ashesi's community, and learn about the everyday lives and perspectives of students across Africa.

In addition to donor funding raised through the ETH Foundation, industrial partners ABB, Barry Callebaut, Bühler, LafargeHolcim and Nestlé are supporting this pioneering project through funding and scholarships. In addition, the internships and career opportunities being offered at their African offices will equip graduates with the skills needed by emerging local labour markets.
Delivering a brief statement at the event launch, Ambassador Stalder noted that Ashesi University has found the right partner to develop such a course with, especially as Switzerland enjoys a reputation as  the world's most innovative country for the 10th year , according to the United Nations Global Innovation Index.
He expressed the belief that that partnership between the two universities will impact positively on creating  graduates who will support Ghana's industrialization aims.
Statement of Ambassador Philipp Stalder, 13th October 2020 (PDF, 2 Pages, 144.5 kB, English)