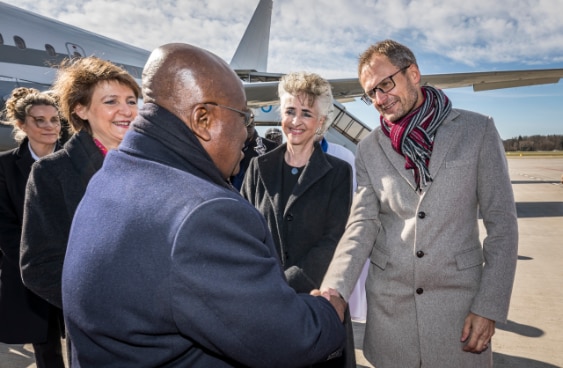 When President Nana Dankwa Akufo-Addo officially travelled to Switzerland last week, it was not just any visit to Berne. The President of the Republic was the first sub-Saharan Africa leader to pay an official state visit to Switzerland since 1957. It was not coincidental that the Swiss government presented this honour to Ghana. On the contrary, the state visit of the Ghanaian President is a fitting tribute to the excellent bilateral relations between Switzerland and Ghana in many cooperation areas.
Bilateral relations that have always been based on the principle of partnership: Ghana is one of Switzerland's oldest trading partners in Africa. Only five days after Ghana declared independence on 6 March 1957, a government delegation from Switzerland agreed with the Ghanaian government to formally establish and strengthen trade relations. 
As I was preparing to take up my diplomatic duties in Accra last spring, I came across a note from the first Swiss ambassador to Ghana, René Keller. He described his very first meeting with President Kwame Nkrumah in 1960 as extraordinarily friendly and warm, even relaxed. He wrote, "marked by no affectation, I take with me the memory of a personality strong and original enough to give himself in all simplicity." Since then 60 years have passed. Six decades in which Ghana has established its position within the region as a model democracy with free and fair elections and as a hub for economic development and investments. 
Yet, even when I presented my credentials to President Akufo-Addo, just like my predecessor, I met an extremely attentive and interested dialogue partner. Other things also remained unchanged. Ghana is still Switzerland's second most important trading partner in Sub-Saharan Africa. In the last three years, the volume of trade has increased from 1.7 billion USD to an impressive 2.5 billion USD in 2019. Ghana is furthermore one of only thirteen countries prioritised for the economic development cooperation of the State Secretariat for Economic Affairs (SECO) since 2002. Since the Swiss Embassy began operations in Accra in 1960, our country has invested more than 370 million USD in official development assistance to Ghana. 
President of the our Swiss Confederation, Simonetta Sommaruga showed herself impressed with the steep economic growth Ghana has realized over the last decade. Switzerland indeed believes in the importance of a dynamic private sector, as well as accountable public institutions. Hence in our cooperation with Ghana, we are happy to share our experience on topics like improving public finances and services, strengthening competitiveness and diversifying the economy.
Although Ghana and Switzerland seem far away, if you look closely, both countries share quite a few striking similarities. Swiss understand how one would have to switch languages, going into different parts of the same country. Both states also followed similar political paths, in ways such as promoting democracy, peace, cultural diversity, inter-religious dialogue and stability around the world. Ghana's pioneering role in the formation of the non-aligned movement, formed to maintain neutrality during the cold-war era, echoes the famous Swiss neutrality. Furthermore, Ghana will soon host the secretariat of the African Continental Free Trade Area (AfCFTA) whereas the Swiss city of Geneva is home to the European headquarters of the United Nations. I am excited that Ghana will soon experience the advantages that come with hosting this secretariat. 
And last but not least, the cocoa from your country is a fundamental ingredient for our beloved Swiss chocolate. Around cocoa as well, the Basel missionaries maintained a cocoa plantation in Aburi as early as 1857 and were among the first to experiment with planting cocoa in Ghana. Indeed, Tetteh Quarshie was an apprentice at the Basel Mission workshop in Akropong before he left for Fernando Po, returning to Ghana in 1876 to popularise the crop by farming it commercially at Mampong Akuapim. 
In line with global challenges, the nature of Ghanaian-Swiss relations are further evolving. Thus, at the core of the talks between our two Presidents was the strengthening of cooperation in the field of climate change along the Paris Agreement and environmental policies. Switzerland appreciates Ghana's engagement on the topic of natural resource management and we are pleased to give our full support to the hosting of the World Resources Forum (WRF) in Accra in June 2020. 
There would be many more topics worthwhile mentioning, including the interest from both heads of state to working more closely together in areas such as renewable energies or the building of road and railway infrastructure. The state visit which was held in a most warm and friendly atmosphere, gave both our countries the opportunity to intensify efforts at the highest level. Efforts to increase the benefits our two-centuries-old relationship for the citizens of Ghana and Switzerland.