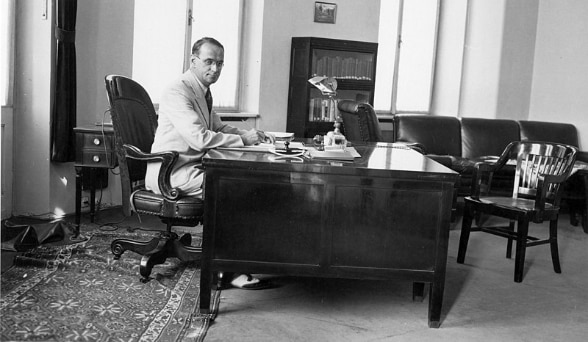 On the occasion of a ceremony in the US Embassy in Budapest, the room in which he used to work during World War 2 has been dedicated in honor of Carl Lutz.
Head of the Division for the protection of foreign interests at the Embassy of Switzerland in Hungary, Vice-Consul Carl Lutz took several initiatives which enabled him and other diplomats from neutral states to save the lives of tens of thousands Hungarian citizens persecuted as Jews. In 1965, Carl Lutz was designated as Righteous Among the Nations by Yad Vashem.
For the ceremony held on 10 June, the Chargé d'affaires a.i. of the Embassy of the United States Marc Dillard was joined by the President of the Federation of Hungarian Jewish Communities, András Heisler, the Ambassador of Israel Yacov Hadas-Handelsman, the Ambassador of Switzerland Jean-François Paroz and the Director of the Budapest Holocaust Memorial Center, Tamás Kovács.
In February 2018, the Federal Department of Foreign Affairs of Switzerland, in presence of Federal Councellor Ignazio Cassis, dedicated a conference room in the Federal Palace in Bern to Carl Lutz.