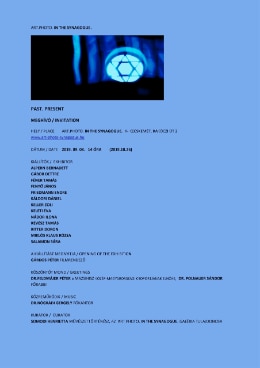 The Great Synagogue of Kecskemét, a huge building with a painful past, deprived of its function. Only part of it remains the original staircase to the female gallery. Stones worn on female steps. … And the built-in women's gallery, where the Gallery and the exhibition are housed.
There is also a destroyed synagogue that has been deprived of its function and may be a Jewish present ... The past is present, the Jewish liturgy is "remembrance" and "secret", the memory of the past ...
Photography, and today a Gallery that deals with photos. The photograph is no stranger to remembrance.
This exhibition brought together Jewish-based artists. From Budapest, Zurich, Berlin and Tel Aviv. Those whose past is important. The exhibited photographs are also about this. Photos, photographers meet the past, the present and the future!
Exhibitors:
Alpern Bernadett, Gábor Dettre, Féner Tamás, Fenyő János, Friedmann Endre, Káldori Dániel, Keller Zoli, Keleti Éva, Nádor Ilona, Révész Tamás, Ritter Doron, Miklos Klaus Rozsa, Salamon Sára

The exhibition will be opened by  Péter Gárdos film director.

Opening: September 8, 2019 2 p.m.

Free entry