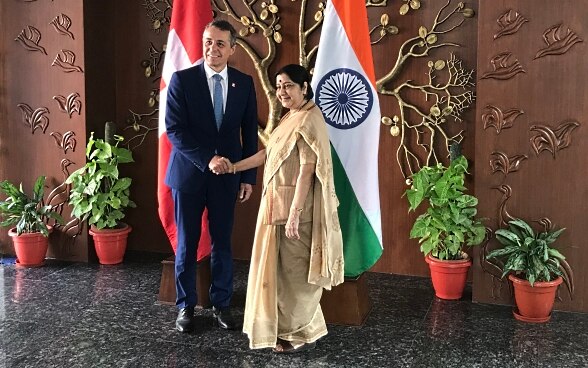 The two countries have close ties, and India is Switzerland's second-largest trading partner in Asia. In the interests of furthering these trade relations, Switzerland is seeking to conclude a free trade agreement by way of the European Free Trade Association (EFTA).
 
The two foreign ministers concurred on the need to work in this direction despite considerable disagreement that remains in certain areas, notably in relation to intellectual property and data protection. The relevant experts will resume their discussions in September in a bid to move closer to reaching agreement.
Ms Swaraj and Mr Cassis applauded the coming into force this year of the automatic exchange of information on tax matters between the two countries. This agreement is expected to bring an end to recurrent allegations of Switzerland harbouring undeclared Indian assets. Furthermore, the ministers agreed that the two countries would sign a memorandum of understanding in the near future to step up their cooperation to address climate change.
Mr Cassis's meeting with Ms Swaraj is the third Swiss-Indian meeting within one year at ministerial or presidential level. Federal Councillor Doris Leuthard visited India as President of the Swiss Confederation last year. The President of the Swiss Confederation, Alain Berset, met with Prime Minister Narenda Modi at the Davos Forum. Mr Cassis also invited Ms Swaraj to visit Switzerland.
Mr Cassis also cited figures to illustrate the dynamism and closeness of relations between the two countries: some 1,700 work permits are granted each year to Indian citizens, more than to any other non-EU country. Furthermore, 20% of tourist visas issued by Switzerland every year are for Indian nationals, who account for 740,000 overnight stays in Swiss hotels. And some 35,000 Swiss nationals travel to India every year – a very large number given the size of Switzerland's population.
These high-level meetings and tourism in both directions are a testament to the mutual respect that exists between two countries. "When India gained its independence, our two countries felt that we had much in common, well beyond mere diplomatic relations, in particular the friendship our two nations sealed in a treaty in 1948, whose 70th anniversary we are celebrating today," noted Mr Cassis on Friday evening before an audience of Swiss and Indian nationals gathered to mark 70 years of the treaty of friendship as well as Switzerland's national day.
---
Further information:
Bilateral relations Switzerland–India
Global brief - Better buildings equal less pollution: the SDC supports India in its efforts to combat climate change

---
Address for enquiries:
Information FDFA
Bundeshaus West
CH-3003 Bern
Tel.: +41 58 462 31 53
Fax: +41 58 464 90 47
E-Mail: info@eda.admin.ch
---
Publisher: