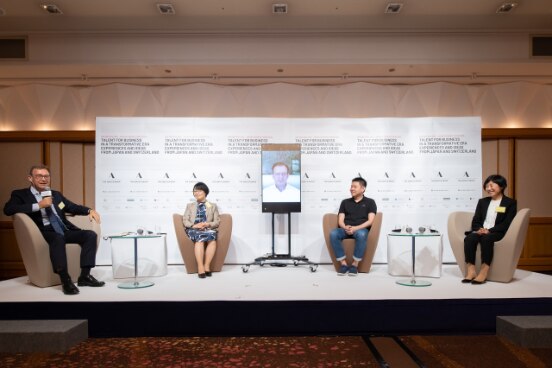 Following a first instalment in 2018 that focused on health and innovation, and a second event in 2019 around sport and motivation, the 3rd Switzerland – Japan Economic Forum was organized on October 15, 2020 by the Embassy of Switzerland in Japan in partnership with IMD Business School and the Swiss Chamber of Commerce and Industry in Japan. The Forum was held at the Imperial Hotel Tokyo in front of a limited physical audience due to public health measures in place, and online.
Some 170 participants got together online and on site around a line-up of 14 Swiss and Japanese speakers who shared ideas and experiences about this year's theme, "Talent for Business in a transformative Era". Highlighting both the similarities and the differences of practice and philosophy between Switzerland and Japan in the field of human resources, the keynote followed by two successive panels provided insights on how to attract and retain young talent, and how to develop and re-skill older workforce. Among the issues at stake, measures to address talent shortage (un-learning and re-skilling, intrapreneurship, etc.), employee engagement ("unbossing" of hierarchical companies, work-life balance, ownership and sense of purpose for younger generation, etc.) as well as the education system (with apprenticeship and vocational trainings as distinctive features of Switzerland) were brought to the fore.
Following opening addresses by Ambassador Dr. Andreas Baum and Mr. Andre Zimmermann, President of the Swiss Chamber of Commerce and Industry in Japan, Ms. Naoko Ishihara, Chief Researcher at Recruit Works Institute, delivered the keynote. Panel speakers and moderators included Mr. Matthias Leuenberger, Country President, Novartis Switzerland, Ms. Chiharu Takakura, Member of the Board of Directors, ROHTO Pharmaceutical Co., Ltd., Ms. Keiko Tsuchiya, Head of Human Resources, The Adecco Group Japan, Mr. Ryo Umezawa, Principal, East Ventures, Mr. Dan Slater, Director, The Delphi Network, Mr. Mutsuo Iwai, Deputy Chairman of the Board, Japan Tobacco, Ms. Miki Kanoh, Executive Officer, Head of Corporate Affairs Group, Nestlé Japan Ltd., Mr. Alain Robert, Vice Chairman, UBS Wealth Management, Mr. Raizo Sakoda, President & Director, Hitachi Academy, and Ms. Chie Ishiyama, Journalist, TV & Radio Presenter. Concluding remarks were delivered by Mr. Naoshi Takatsu, Managing Partner (North East Asia), IMD Business School.
As a learning organization, we look forward to further pursuing  the objectives of the forum: bringing Switzerland and Japan closer together in the fields of economics and business. The Switzerland – Japan Economic Forum is a joint initiative of the Embassy of Switzerland in Japan, the Swiss Chamber of Commerce and Industry in Japan and IMD Business School. It contributes to strengthening relations and understanding between the two countries and economies. The Forum brings together high-level representatives from business, government and academia from Japan and Switzerland.
More details: Switzerland – Japan Economic Forum