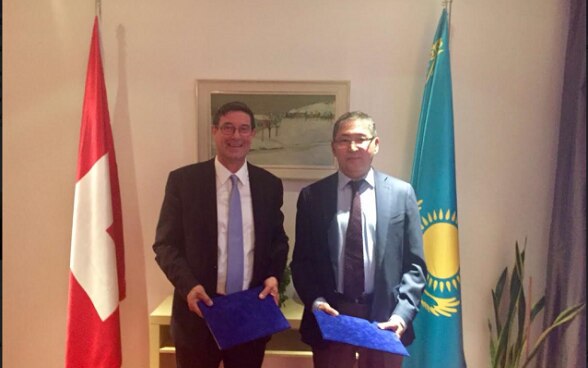 During his visit, Dr. Mauro Dell'Ambrogio and Mr. Yerlan Sagadiyev, Minister of Education and Science of Kazakhstan signed a Joint Statement on science, technology and innovation and expressed their determination to develop further bilateral cooperation.
State Secretary Dell'Ambrogio visited National Space Agency "Kazakhstan Garysh Sapary", National Agency for Technologies and Development, Centre of International Programs "Bolashak", Nazarbayev University and Eurasian National University where he was briefed about the activities of these institutions.
In addition, Dr. Dell'Ambrogio took note of the work of the Mobile Swissnex Lab at the Swiss Pavilion at EXPO-2017 and participated in the round table « Innovation in the energy sector » together with Mr. Vladimir Shkolnik, Adviser of the President of Kazakhstan and co-Chairman of Switzerland – Kazakhstan Business Council.