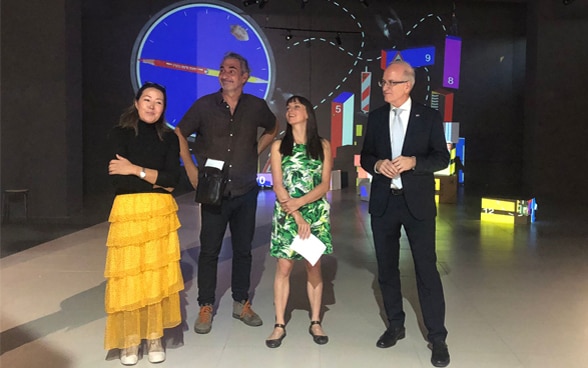 The opening ceremony of the exhibition "Dimensions of Time" (video creations) of the Swiss artists Saskia Edens and Peter Aerschmann of was held on August 5, 2022, in the Platforma Projectroom. 
Intertwined by parallel meanings the works of the artists touch upon themes of temporality, philosophy, reflections on cycles and impermanence of changeability.

Saskia Edens creates lunar calendars and is interested in the cycle and influence of the moon on life, while Peter Aerschmann creates pendulums with animated natural elements and rotates objects like planets in weightless space.
The exhibition is curated by Aigul Ibraeva, art historian and founder of Platforma Projectroom in Nur-Sultan and ToBE gallery free space in Bern.