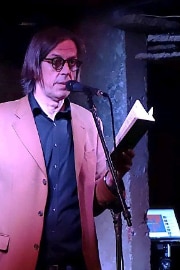 On 17th of May, the embassy invited Swiss author Pedro Lenz for a dialect evening in Pristina's Hamam Jazz Bar. With readings in the Swiss-Bernoise dialect and in German he drew the public into the spell of his book "Der Goalie bin ig" ("I'm the Goal Keeper"). For a moment, the guests almost forgot that they were in Hamam Jazz Bar with Lenz and instead felt like having a beer with the story's protagonist Goalie (the keeper) in his favorite bar in the small village of Schummertal.
Not only the public, but also Lenz was delighted about his first public reading session in Kosovo. "Du muesch uf Prischtina", "You have to go to Pristina", he quoted his Kosovar companions of back in the days when he used to work as bricklayer. Thanks to the dialect evening, he finally would have had the chance to get to know their home country.
The movie "Der Goalie bin ig", based on Lenz' book, was shown in Mitrovica, Pristina and Prizren. It was screened in original language (Swiss German), with German, Albanian and Serbian subtitles.
On 21st of May, the Swiss Embassy furthermore organized a creative workshop for students of the art faculty of the University of Pristina. The workshop was held by renowned Swiss cartoonist Felix Schaad and his Kosovar counterpart Jeton Mikullovci.  Ambassador Krystyna Marty Lang and Deputy Head of Mission Anita Schlüchter visited the workshop to greet the participants and have a look at their artwork. Students presented their cartoons on the topic "Tourism in Kosovo".