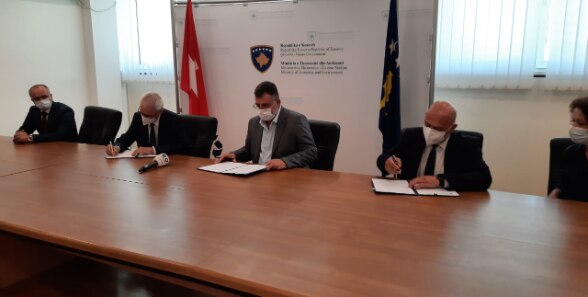 Signing the Project Agreement
"Improving the District Heating Performance in Gjakova"
General

Switzerland is one of the first countries that has recognized the Independence of Kosovo, which was declared on February 17, 2008. (Switzerland recognized the Independence of Kosovo on February 27, 2008)
Significant number of Kosovars living in Switzerland (around 112.000 Kosovars established in) – they contribute to Swiss and Kosovo economy, and their assistance to Kosovo has been great.

Switzerland's support for Kosovo has been important since the war, and remains one of Kosovo's most friendly countries and one of the largest investors in Kosovo.

Swiss Development Cooperation operates in Kosovo since 1998. After the war CH is supporting Kosovo in many different areas such as: Democratic Governance, Economy and Employment, Water and Climate Change, Health and Migration (approx. CHF 16 Mio per year).

We also have mutual interests and we support each other's for example in football (happy to bring and exchange Swiss values in Kosovo):

o   Swiss National Football Team with the great players with Kosovar origin such as Xherdan Shaqiri, Granit Xhaka, Albian Ajeti and
o   The Swiss Trainer, Bernard Challandes leading the Kosovo National Football Team
Gjakova Project

Today we sign another Project Agreement with the Government of Kosovo - an important project in the area of energy efficiency and climate protection.
This project will contribute to a more sustainable management of the District Heating Company. It will contribute to efficient use of energy in the city of Gjakova and improve the economic performance of the locally owned company.

This project is environmental friendly and will contribute to the fight against global warming.

Switzerland through the State Secretariat of Economic Affairs (SECO) will focus mainly on supporting and strengthening the operational, financial and administrative capacities of the company. The project will also upgrade the heating network of the regional hospital in Gjakova contributing to better indoor environment for patients and staff.

Furthermore, 40'827 inhabitants of Gjakova will benefit from better environment.

The cooperation with both central and local institutions is essential for the long-term sustainability of the project.

Municipality of Gjakova has committed a contribution of Euro 500.000.
Euro 5.5 million is a grant from the Swiss government through SECO.
This shows government ownership towards this important investment in the city of Gjakova.