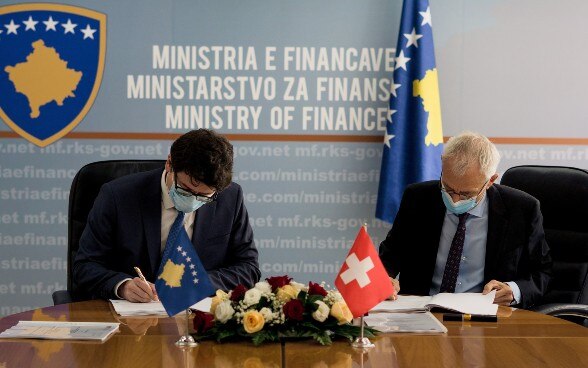 Dear Minister Murati,
Dear Minister Aliu
Let me start by expressing my greatest satisfaction of the today's signing of the Agreement for the "Integrated Water Resources Management in Kosovo" Program.

This Agreement marks a milestone in the further development of the already important relations between the Swiss Confederation and the Republic of Kosovo, in particular in the water sector.
By co-signing the Agreement we are expressing our highest commitment to the success of this program.
 We are joining forces and resources, by enhancing the institutional capacities, facilitating stakeholder involvement and innovative solutions to some of the most pressing challenges confronting Kosovo's sustainability agenda.
While the Program will primarily focus on catalyzing the necessary capacities at the Ministry of Environment, Spatial Planning and Infrastructure, its long-term success will depend on many other players in the Government, among the civil society and many other stakeholders.
With this program we are committing not only the financial resources, but we are also making available Swiss expertise in water resources management. The Program is designed to serve as a bridge connecting the institutions, experts and people of our two countries.
Let me use this opportunity to thank the Ministers of Finance and Environment and the entire Government for recognizing this opportunity and committing to the necessary reform agenda.
We live in time of unprecedented challenges influenced heavily by the climate change. The investments we are committing together as part of this Program are more than needed and timely to address some of these challenges.