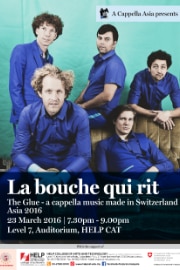 A young Swiss A Capella Group, The Glue will be performing in Kuala Lumpur from 22nd – 23rd March 2016 which the Embassy of Switzerland act as the co-sponsor.
Details are as below:
Date: 22nd March 2016
Time: 9:00 pm
Venue: No Black Tie
Please refer No Black Tie for more information.
Date: 23rd March 2016
Time: 7:30 pm
Venue: HELP CAT
Entrance: by invitation
About HELPCAT.
Click here for more information about The Glue.