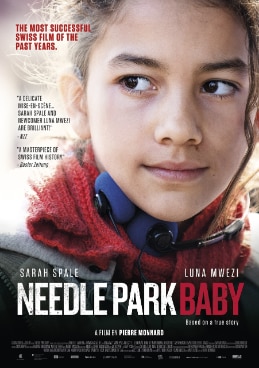 This year, the European Film Festival in Malaysia is going online from 30 October to 30 November 2020! Vist here  to register and explore the exciting line-up of films including a Swiss film inspired by the Swiss bestselling novel 'Platzspitbaby'.
Needle Park Baby
A film by Pierre Monnard, screenplay by André Küttel. Inspired by the Swiss bestselling novel 'PLATZSPITZBABY' by Michelle Halbheer and Franziska K. Mülller (published in 2013 by Wörterseh-Verlag, touched the hearts of over 40'000 Swiss readers)
Spring 1995: After the closure of the infamous needle park and the open drug scene in Zurich, eleven-year-old Mia and her mother Sandrine move to an idyllic little town outside Zurich. However, the new home is no paradise for Mia, because Sandrine is heavily addicted to drugs and should never have obtained custody. Mia takes refuge in her fantasy world with an imaginary friend. She talks to him during lonely hours and they make fabulous plans for an island life with her mother, far away from drugs. Mia also finds a kind of substitute family in a kids' gang whose members come from similarly tough backgrounds. More and more Mia builds up the strength to rebel against her mother, and finally succeeds in leaving her.