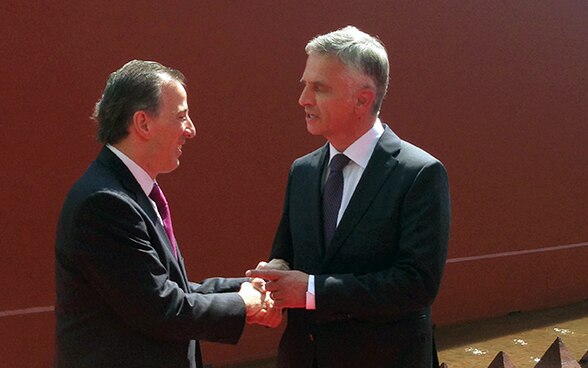 In 2015/16, Switzerland and Mexico celebrate 70 years of diplomatic relations. In this context, Mr Burkhalter and Mr Meade will together launch a rich programme of events to be organised by Swiss and Mexican embassies in the respective host countries.
Some 5,000 Swiss nationals live in Mexico. As a G-20 state and dynamic emerging economic power Mexico has long been an important partner for Switzerland. Mexico is Switzerland's second most important trading partner in Latin America, and Switzerland is the eighth-largest investor in Mexico. Swiss companies in Mexico employ over 50,000 people. The Mexico-EFTA free-trade agreement is an important basis for bilateral trade and is expected to be revised and brought up to date in the near future.
At the multilateral level, Switzerland and Mexico work together very well and closely. This applies for example to the current climate negotiations and the negotiations on the post-2015 sustainable development agenda. Switzerland and Mexico also work together closely in the UN Human Rights Council and in relation to the initiative of the ICRC and Switzerland to promote more respect for international humanitarian law.
The joint declaration provides for Mexico and Switzerland to strengthen their already good cooperation in a number of specific fields, including further developing cooperation in the UN, trilateral development projects in Central America, a joint human rights project, greater emphasis on human rights in their annual political consultations and close cooperation within the framework of Switzerland's observer status in the Pacific Alliance.
---
Further information:
Bilateral relations Switzerland - Mexico

---
Address for enquiries:
Information FDFA
Bundeshaus West
CH-3003 Bern
Tel.: +41 58 462 31 53
Fax: +41 58 464 90 47
E-Mail: info@eda.admin.ch
---
Publisher: